After graduation what Next? NYSC. After Youth Service (NYSC) what next? You can start thinking of getting a good job, doing business, Masters Degree in Nigeria, or Going Abroad to further your Education… It is all left for you to decide.  This guide will strictly focus on your NYSC.
Now, there are many things you still need to know as a fresh graduate. One of them is knowing how the National Youth Service Corps (NYSC) works and the common terms you will come across before and during service. Remember, it is what you have in your head that takes you ahead.
1. NYSC Mobilization
This is the first stage of the National Youth Service. As the name implies, all qualified graduates across all Schools in Nigeria are mobilized for service. A mobilization timetable is released by NYSC Officials to show various dates and their schedules.
Content Of Mobilization Timetable
An NYSC Mobilization Timetable Contain Dates for the following Activities:
Pre-Mobilisation Workshop.
Uploading of Senate Approved Results and Revalidation Lists
Submission of Senate/Academic Board Approved Results
Online Registration by Foreign and locally Trained Nigerian Graduates
Pre-Camp Physical Verification of Credentials of Foreign-Trained Graduates
Action by ICT Department
Notification and Printing of Call-up Letters by PCMs
Commencement of Orientation Course
You can check how NYSC Mobilization Timetable looks here
2. NYSC Senate List
The Senate list is an official list of names and details of graduates who are eligible for NYSC from every institution in the country. This list will be prepared by your Institution and sent to the NYSC Board. The Senate list is uploaded Online so that you can check your name.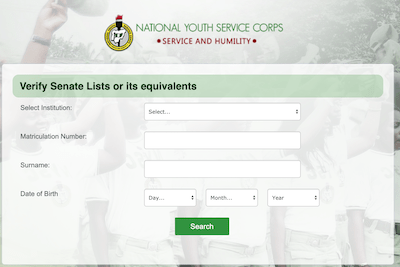 How to Check NYSC Senate List:
Go to NYSC Senate / Academic Board list portal
Select your Institution.
Supply your Matriculation Number and Surname in the required columns.
Select your date of birth.
Finally, click the "SEARCH' button to access your mobilization status.
You may want to check the Latest NYSC Senate list here
3. NYSC Registration
From the name, you should already be able to guess what NYSC Registration is all about. Registration is the next step to take after confidently checking your name on the Senate List. The following are requirements for NYSC Registration:
Active phone number
Passport Photograph
Biometric Verification
And More (Link Below…)
Recommended: How to do NYSC Online Registration
4. NYSC Call-Up Letter
After NYSC Registration, the next thing is the call-up letter. This is simply a letter that will show your state of deployment and other important information. If you have paid the N3,000, you will be able to print your call-up letter on your dashboard.
You Will Spend Money
Nothing is free… You will have to make payments. For example, during the NYSC registration, you will need to pay N3,000 to print the NYSC Call-up letter from your dashboard when it comes out.
You have two options regarding printing your Call-up letter; You can either pay N3,000 and print it on your dashboard or don't pay and go to your institution to collect it. In any which way, money must be spent.
Recommended: 15 Ways to make money with your phone
5. NYSC Orientation Camp
I know you are already familiar with this. Right from your hundred level days, I'm sure you always get excited to see corpers in Camp. It is now your turn; how time flies.
How long do corpers spend in orientation camp? You will spend three weeks at Camp doing a lot of programs. The orientation camp is always fun (if not the sweetest part of NYSC).
6. Place Of Primary Assignment (PPA)
On the last day of the Orientation camp, you will collect a letter that will specify the particular place where you will do your service. This is called the Place of Primary Assignment.
Your place of assignment can be a secondary school, an industry, University and even government office. You can change your PPA if you are not satisfied with it.
7. NYSC Allowee
The is the biggest NYSC news right now. If you are serving this year 2023, you are in luck because Allowance has increased from #19,800 to #33,000. You will get a monthly payment of 33k starting from when you are in the orientation camp. The last payment will double (66k).
You will open a new bank account and that is where the NYSC Allowee will be entering. It always comes about 2-3 days before the end of the month. Your allowance can come late some months.
8. CDS Group
CDS Stands for Community Development Service. The NYSC officials will split every Corps members into different CDS Group and they will be meeting once in a week.
CDS is very important as you cannot do your clearance if you did not participate in your CDS group. This is where you brainstorm on how to do something important for the community where you serve.
9. Clearance
NYSC clearance exercise takes place every month end. If you miss a clearance, you will not collect your Allowee for that month and that is automatically an extension. The date for the clearance is always different and it depends on your Local Government schedule.
10. NYSC Passing Out Parade
This is the last ceremony of your Youth SERVICE Scheme. Remember, everything that has a beginning will surely have an end.
No matter how you enjoy your place of assignment, you will end your NYSC after some months and face real life. Then no number seven (allowance) anymore. The passing out parade is always on a low key whereby you will go to your Local Government and collect your NYSC certificate.
Hope you found this guide useful. Feel free to share with your friends using the share buttons below and don't fail to let me know how you feel using the comment box.