Before now, all I do whenever I open my Gmail, Yahoo or ZohoMail was to check emails in my Primary and Updates folder. I don't always pay attention to emails in my promotion and spam folder (Spam folder is also called junk folder).
This attitude continued until I was trying to test a cron job in my VPS server. The emails were reportedly sent but I couldn't find them in my Inbox.
So, I decided to check my spam folder. Lo and behold, there were up to 20 emails that were very important to me. The painful thing was that the events had passed. It even included a scholarship email.
From the day I discovered that not all emails in spam folder are actually spam, I have made it a habit to check my spam and other folders daily.
Many persons have missed scholarship invitations, job interviews, Jamb reprinting and updates, direct messages, and other important appointments because the mail sent to them was caught by spambots. You should make it a habit to check your email spam box regularly.
If you haven't been checking your spam folder before now, don't be shocked at the precious emails you would see over there.
Before I end this post, let quickly explain the meaning of spam, how to check your spam folder and why some emails end up in the spam folder.
Note: Some of the terms I would use below may be too technical, but the bottom line is that you should check your spam folder regularly.
Email Spam
According to Wikipedia, Email spam, also known as unsolicited bulk email (UBE), junk mail, or unsolicited commercial email (UCE), is the practice of sending unwanted email messages, frequently with commercial content, in large quantities to an indiscriminate set of recipients.
How To Check Email Spam Folder
Checking your spam folder is very easy. All you need is to login to your email and locate the spam section.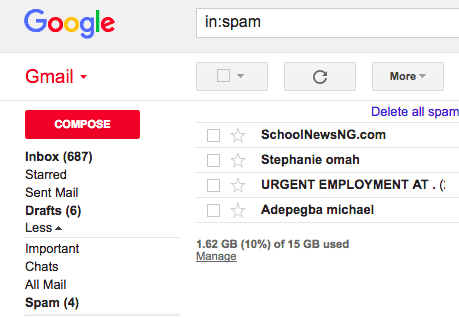 Simple Reasons Why Emails Go To Spam Folder:
This part is for bloggers or email marketers…
Your IP address was used for spam and at such blacklisted.
Your emails don't follow best practice.
low open rate.
Words in the email triggers spam.
You didn't include "unsubscribe" link in the commercial mail.
You didn't properly set-up SPF, DKIM and DMARC
Your email subject is misleading.
 It has a from address in yourblogname.com but has failed yourblogname.com's required tests for authentication.
Hope you found this helpful? Feel free to share with others and don't fail to drop your comment below.