To get into the YouTube Partner Program (Google AdSense for Youtube), you need at least 1000 Channel Subscribers and 4000 Watch Hours. You may be wondering how many Views you need to get 4,000 Watch Hours on YouTube. I will take you through the YouTube 4000 Watch Hours Calculator.
Note that YouTube Four Thousand Watch Hours imply that people will have to watch your YouTube Videos for 4000 hours within one year (Views above one year won't be counted). The 4000 Watch hours can spread across all your Videos.
https://youtu.be/GOe7VrFViTw
There is a formula you can use to predict how many views that will land you into YouTube 4000 Watch hours. Views Needed is equal to 4000 times your Current views divided by Current Watch Hours.
This should be calculated over the last 28 days, 7 days, 90 days and Lifetime YouTube statistics as explained in the video above. The formula is shown below: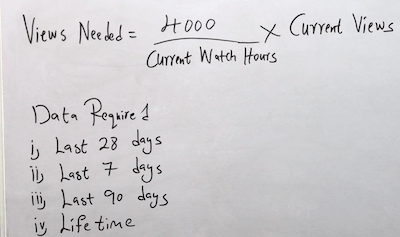 Visit Youtube.com, click on your Channel and then YouTube Studio. Navigate to Analytics menu in Youtube Studio. You will immediately see your views and watch hours for the last 28 days. You will also see an option to choose statistics for the last 7 days, last 90 days, lifetime, custom and more…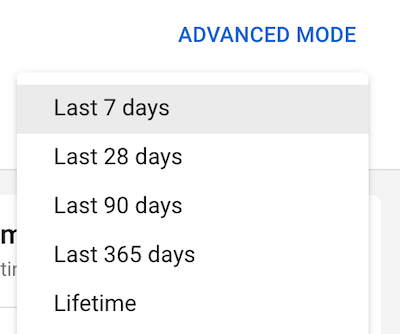 Put Down the following data:
Views and Watch hours for the last 28 days
Views and Watch hours for the last 7 days
Views and Watch hours for the last 90 days
Lifetime Views and Watch hours
Let each of the Views above represent your current views and each of the Watch hours represent your current watch hours. For each period, substitute the values into the YouTube 4000 watch hour formular. Then add results for the four periods and divide by 4 to get the average views you need to arrive at the Youtube 4000 Watch hour.
See the screenshot below for sample youtube channel data used to predict views that will convert to 4000 watch hours and try solving for your own channel. Don't fail to let me know if you have questions or issues calculating your own YouTube Views.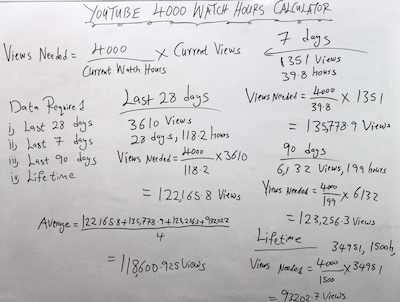 Hope you found this useful? Feel free to let me know how you feel using the comment box and don't fail to share with your friends.