As usual, I go out there, learn new things and share my experience and findings here at FlashLearners so that others can learn. This Guide is constantly Updated to meet up with the latest Google Adsense Standards.
In my few years of blogging, I have learnt amazing things back to back. From Content Optimisation to Search Engine Optimisation (SEO) and effective use of Content Delivery Network (CDN). In fact, one of the most interesting things in blogging is that you learn different things as the days go by.
In this article, I will be sharing with you how I got my AdSense second review approved, as well as the mistakes that almost cost me Google AdSense. This may be your last guide to Google AdSense.
Getting approved after Google AdSense Review Process (GARP) is the dream of every blogger who really wants to turn their passion into profit. As a result of this, they do everything possible to get an approved account of Google AdSense. However, the results usually come out different for different individuals.
The most popularl reply after being rejected by AdSense is Insufficient Content. Mind you, insufficient content doesn't mean that you do not have enough articles. It actually mean you do not have enough texts in all you pages. I was approved with only 33 posts and less than 100 comments.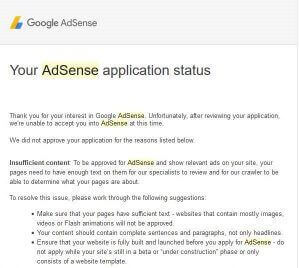 I have seen a situation where some guys get approved with less than 10 posts. This implies that number of articles is not a major acceptance factor in AdSense. All you need to do is follow the Google AdSense program Policies.
The first time I applied, I go this message that AdSense could not accept me due to insufficient content. That was when I realized that insufficient content is beyond quantity. Quality posts is the truth and the way to get Google AdSense approved. No man gets AdSense account approval with a substandard or very low-quality post.
Make sure that your articles are always more than 300 words (most cases). Even if you want to tell people that Google has released Panda 4.0 update, don't just end there. Say one or two things about what Panda really is. But, it doesn't mean you should write irrelevant stuff.
Google AdSense Frequently Asked Questions (FAQ)
---
In your quest to get Google AdSense account fully approved, you have come across different questions on the internet. In fact, you have asked questions likes:
Will Google approve my Adsense with just a few posts?
Must I wait for 6 months before I apply for AdSense?
What are the stupid mistakes preventing me from getting Google AdSense approved?
Google says I have insufficient content, what does it mean?
Must I create About and contact page to get Google AdSense approved?
Does my content type stop me from getting Google AdSense Approved?
Should I bother about my site layout?
Should I focus on search engine optimization?
Why are blank spaces showing in my blog?
And so many more.
Answers To Google AdSense Frequently Asked Questions
---
You can get approved with just a few posts.
You do not have to wait for six months before applying for Google Adsense. Mine was less than two months when I got approval.
AdSense Guidelines are broken, Your contents are copied, low quality articles, no enough texts in all your pages, your website is not easy to navigate, google doesn't like your type of content , etc.
No enough/original texts in all your pages.
Not really, but it is necessary.
Yes, there are contents Google/AdSense team do not like.
Yes, your blog should be simple and easy to navigate.
Search engine optimized content may really be of help to you.
It is normal for blank spaces to appear in your blog. This shows that  you have properly inserted the Javascrip/AdSense Code in your site. The blank Ads Usually appears where you placed the ad code.
Google AdSense Review Process
---
If you were rejected due to insufficient content, update or delete the empty/categories with insufficient contents. AdSense disapproves insufficient content. Alternatively, fill it with quality content.
If you got the message in the image below or something related, like I did. You have to follow the four commandments below.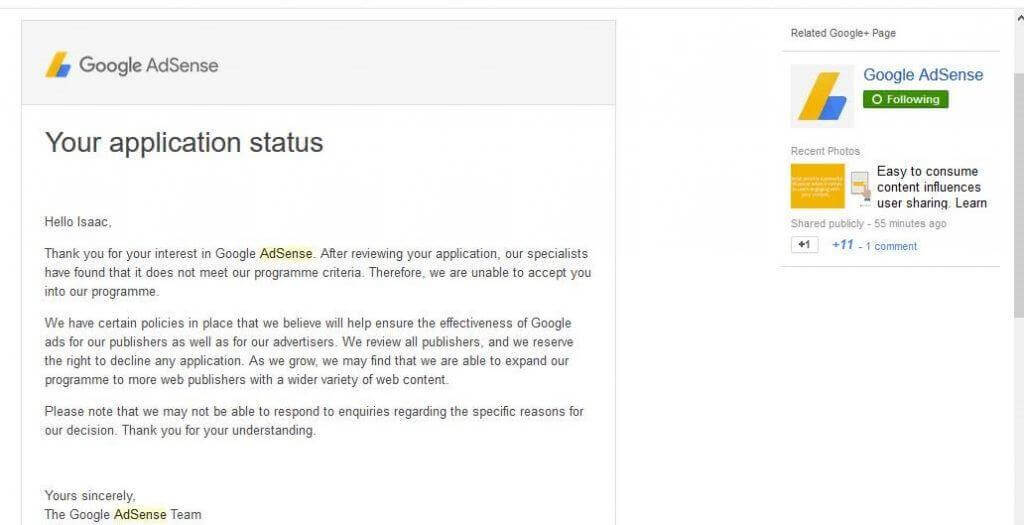 1. REVIEW YOUR ABOUT PAGE
This is from personal experience. When I got the above message, I had to review my about page, telling Google why I think I am qualified to run an education blog. Let people see reason to visit your blog, let them know who you really are. This counts as transparency.
Also, check your footer for broken links. Don't just focus on articles, update other important pages and posts on your Blog.
2. WORK ON YOUR BLOG DESIGN
Google likes simple design. Let visitors be able to navigate your blog with ease. There are some blogs you visit and you almost get lost.
As part of that, try to link your new articles to existing ones. This will reduce your bounce rate. Google likes unique and quality content. How unique is your content? Examine your content and update them regularly.
3. USE GOOGLE ADSENSE PLUGIN (WPQuads)
Any code you place in the header.php of your WordPress site will appear in all the pages? What if you have empty pages and the code appears in that page? Automatically you have broken the rule which says you must not place ads on empty page.
I didn't paste my Adsense code in theme header.php. I used the Google AdSense Plugin. You may want to try using any advert plugin. As simple this may sound, it is capable of causing change. Just try these three rules. You will surely come back to Flashlearners for your testimony.
Google AdSense plugin has now been replaced with WP QUADS Plugin to deliver ads to your site. It will help you place ads on only pages that meet the criteria. In addition, you have choice of excluding ads from displaying in posts that are not appropriate. You can as well use plugins like AdRotate or Wp Advertise it.
4. You may now Check here for 30 tips to get Google Adsense approval.
Finally, Account Approved
---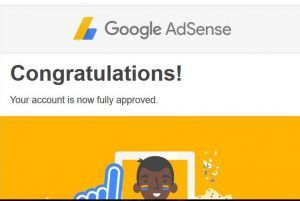 Do not give up.  As a matter of fact, you can make it if you mean it. Keep believing and applying. You may also want to read my article on 30 Proven tips to get your Adsense account approved and Google Adsense Approval process for Dummies. Good luck.
Google Adsense Verification
After getting Google Adsense approval and earning 10 dollars, you will need to verify your address. Check here for the step by step guide to verify Google Adsense.
Don't fail to share your views in the comment box below.