Apart from how good a University is, School fees is a major factor to consider before applying for admission into any University in Nigeria. Another thing to consider is the school hostel accommodation. But you may not want to stay in the school hostel for the following reasons.
For most federal schools in Nigeria, the first year school fees is high; then it reduces as from 200 level. Apart from school fees, you will pay acceptance fee, accommodation fees and more charges in 100 level. Therefore, I will focus more on what you will pay as from your two hundred level (200 level).
I Paid #49,500 school fees in my first year at the University of Benin. In my second and third year (200l and 300l), I paid #14,400. In my 400 level and 500 level (final year), I paid #15,400. However, the school fees is now around #43,300 from your second year to final year in UNIBEN.
Now you may be wondering the year I graduated and the course I studied. I graduated in the year 2019 from the department of Electrical/Electronic Engineering, Faculty of Engineering, University of Benin, Benin City, Edo State.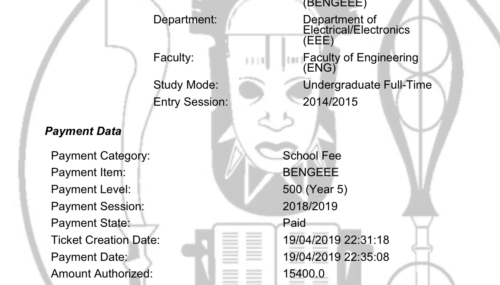 Top 8 Universities With Lowest School Fees
The following are information based on what I was told and have read about other schools (Don't fail to let me know if you think anything is missing)…
With focus on Second Year School Fees and Above, The Top 8 Cheapest Federal Universities in Nigeria for 2021 are:
Federal University of Technology Abeokuta (FUTA)
Ahmadu Bello University, Abu Zaria
The University of Lagos (UNILAG)
Obafemi Awolowo University (OAU)
The University of Ibadan (UI)
Nnamdi Azikiwe University (UNIZIK)
Federal University of Kasher
The University of Benin (UNIBEN)
Their school fees:
Nnamdi Azikiwe University (UNIZIK) school fees from year two (200 level) is #23,100.

Abu Zaria school fees is N29,500 in 100L. In 200L and above, you'll be paying N19,900.

The University of Lagos (UNILAG) fees from 200 level is #14,500 for non-science students and #15,500 for science.

The Federal University of Technology Abeokuta (FUTA) school fees is #13,500 in year 2 and #50,300 at entry-level. 300 level is 17k and 400 level is 13k while 500 level is 17k.

The Federal University of Kashere school fees is 35,000 Naira fresher and 27,000 naira for returning students

Obafemi Awolowo University (OAU) School fees for Admin/Social Sciences/Law/Education is 20,050NGN starting from 2nd year.
The University of Benin school fees is 43,300 as from second year (200 level)
The University of Ibadan (UI) school fees is #25,000 in the first year and #19,000 in subsequent years.
Federal Universities schools fees in Nigeria are generally lower than school fees of State Universities and Private universities. The only problem is gaining admission into Federal schools in Nigeria.
Since Federal schools are very competitive, their Jamb and Post UTME Cut off marks are always higher than that of State and Private schools. Your best bet is to blast jamb and score high in post utme.