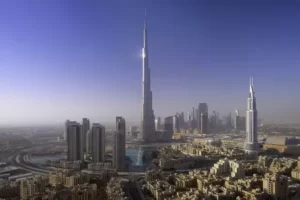 Do Foreigners make money in Dubai? Over 50,000 people have migrated from the US alone to live in Dubai. As more immigrants come to settle in the luxurious city, one important question they ask is how can I make money in Dubai.
Dubai is a business hub where you can make money in different ways. Different nationals come for different purposes. Some come to tour the best vacation spots in the country, others stay a while, and some others move in to explore the opportunities to make money in Dubai.
The United Arab Emirates is a hotspot for earning a good income due to its rich and fertile economy which had a total GDP of $507.54 billion in 2022. According to Statista, the UAE's GDP is estimated to amount to 639.34 billion U.S. dollars in 2028.
A lot is significant to the booming economy of Dubai as it is the third richest country in the world following Luxembourg at number two and Qatar at number one position. The majority of Dubai's wealth is from the production and provision of services in the petroleum sector.
Increasingly, business people and entrepreneurs are heading to the high-income county to start and expand their businesses to either make money in Dubai, invest in the country, or for leisure purposes.
Recommended: Should I invest in Belgium?
Costa Rica vs Mexico: Where Should You Go for Vacation in 2023?
Ways To Make Money In Dubai?
There are several ways to make money in Dubai. They include:
1. Online Business Ideas
All over the world, people make money doing online business from the comfort of their homes. This is not different for you as an immigrant residing in Dubai. You can earn comfortably, by running an online business.
To start, you need to know which online business idea is profitable and which one you are skilled in to make money in Dubai. Some of the online means to make money in Dubai are:
You can earn as an affiliate marketer when you promote brands that pay you on commission. If you have a strong social media presence, this is a good side hustle that can fetch you money regularly.
As an affiliate marketer, you search for top brands in high demand in the UAE and use your social platforms to push them out to prospects. The more you sell, the more you earn. 
Become an Online Travel Agent 
If you love traveling, you can recreate your passion to make money in Dubai as an online travel agent. People search for means to purchase flight tickets, get accommodation, hire tour guides, and other travel-related inquiries. You can provide these services as a foreigner living in Dubai and make money.
Take up Virtual Assisting Tasks
A lot of professionals rarely have time to perform certain various tasks to complete their jobs. Hence they look for virtual assistants who can relieve them and get paid handsomely.
You can become a virtual assistant today and start making money online. You can learn more about online businesses that can help you make money in Dubai.
Read: Online Business Ideas That Will Make You A Millionaire in 2023
How To Turn Your Talents Into A Profitable Business
7 Steps To Start a Small Online Business
5 Unique Ways To Start A Business With No Money In 2023
2. Invest in The Food Industry
The food business is evergreen and is available for entrepreneurs to plunge into to make money in Dubai. Many foreigners as well as the locals have needs and concerns about feeding daily. This is why a startup in the food sector is not a bad idea to make money in Dubai.
With the right skills and expertise, interested foreigners can start a restaurant business, operate a fast food outlet or explore food truck ideas to make money in Dubai.
3. Business Consulting Services
Dubai is a home for small and medium-scale businesses that want to grow and expand their portfolios in the country and beyond. Offering real-time solutions to help these businesses upscale and reach their goals is another means to make money in Dubai. 
Foreigners with the proper certification and expertise can grow a line of business to meet this need in the UAE. The benefit of consulting services is that you get referrals and endorsements when you deliver and take your client's business as yours.
Recommended: 10 Steps On How to Start a Business in Colorado (2023)
4. Invest in Real Estate
Real estate in Dubai, is one of the leading real estate markets you can get around the world. The residential market is in high demand and more investors are taking advantage to invest in real estate in Dubai and across the Emirate.
Roughly 90% of Dubai residents are ex-pats. As a foreigner, you become a real estate agent by providing residential services to the teeming expat population who come to settle in the glamorous capital of the UAE.
Reports have revealed the property market is increasing daily as January and February 2023 residential transactions alone clocked a total of 17,741. This shows the rate at which property investors can make money in Dubai.
5. Beauty and Fashion
What about the beauty and fashion business? These are some top areas expats can start a business to make money in Dubai. There is a lot of glitz around, and the best smart foreigners can do is tap from the available opportunity. 
Foreigners can start boutique outfits, fashion studios, or start beauty parlors and spas. The market for such business is available as more tourists, expats, and other residents seek ways to look their best during their voyage in the UAE.
6. Tourism Services
Already, Dubai is a popular vacation destination for a lot of people who come from the United States, United Kingdom, Europe, Asia, and Africa Countries. As a top tourism country, expats willing to make money in Dubai, can operate tourism niche businesses and learn how to promote it.
7. Courier Services
A courier is a company that helps individuals and businesses to deliver goods or materials to designated people and locations.
The United Arab Emirates is an international ground that will enable foreigners to operate a profitable courier services business in the country. Immigrants looking to own logistics firms can start with courier services.
8. IT Services
Information technology is a leading business niche across the globe. Tech-savvy expats can emerge with solutions and technologies to meet the growing need for digitization in different industries in the county.
App-based, web, and mobile-based solutions are top IT areas where tech geeks can launch their ideas to begin to make money in Dubai.
9. Retail Outlets
Buying high demand products and reselling at a good price is a business foreigners living in Dubai can do to make money.  Retail outlets that are open in the morning to late at night are good business opportunities for immigrants who have the time.
These retail outlets can provide basic house commodities, liquor, canned foods, and other consumer goods in high demand. It is possible to run the online aspect of the retail business if you intend to meet offline and online markets in Dubai.
10. Other Unconventional Ways
Aside from running a business or investing, you can make money in Dubai legitimately doing temporary jobs such as working for conferences and events, having a stand, and selling stuff at a higher price during exhibitions. 
You can also buy second-hand goods on the cheap and sell them at the actual price, or sell products and services via eBay and Amazon.
There is a lot you can do in the opulence city to make money. You just need to consider any of these ideas to start. However, one important area to work on is promoting your services to reach more people.