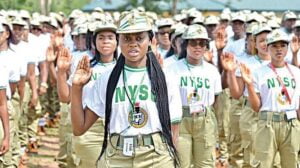 Now Your Success Continues is my candid opinion for whosoever is intending the compulsory National Youths Service Corp. It important you share my thought if you want to have a successful service year.
If I were you, I will put these words to heart and debunk anything that falls short of success as you prepare to go for the one year scheme.
If you can believe, all things are possible including a successful service year. Many prospective corp members look forward to it yet they allow misleading views of the scheme to fill their heads.
Success is both theory and practice. To gain success in any field, you must pay attention to what you want and your attitude toward it. If you want to have a successful NYSC, then you should pay attention to success, and it alone.
Avoid half-truths and comments of Ex corp members who didn't enjoy their service. Your experience will be different and your chance to achieve success the whole year is very possible.
To help you achieve this, we have compiled the best ways to have a successful service for your NYSC program. Keep reading to get all the details.
Recommended: NYSC CDS; Everything You Should Know
How To Have A Successful NYSC Programme
1. Create A Plan
If you fail to plan, you are planning to fail. I completed my NYSC successfully years back and I can tell you having a plan works wonders.
Transiting from the university without a plan should not be repeated for NYSC. Write out what you want to achieve. Do you want to get a job as soon as you leave or start a business?
Draw out your plans in form of goals you intend to accomplish before you complete the scheme. Map out ways to reach them and go through them regularly to have your heart fix on them.
The plan gives you direction and propels you to take action. It is powerful to make you focus, and make decisions that will bring the desired results.
But it is one thing to plan and it is another, to work things out. Therefore, maximize all the means to stick to your set goals and prepare to celebrate a successful service year, you will be proud of.
Recommended: 10 Qualities For A Good Job In 2023
2. Build Your Profile
The worst it can be is, after NYSC you are starting from scratch because you didn't place priority on who you are becoming.
What do you want to be known for? The no-job syndrome is not affecting smart individuals who have cultured themselves to solve problems and find means of adding value to everyday life.
Instead of building a mere following without cash and getting good for nothing likes on social media, build your profile. Make your interactions and engagement on social media, centered on your brand.
Brand yourself, and be known for something to get paid for. LinkedIn is a great resource tool to help you build your profile as you look forward to completing a successful service year.
3. Save And Invest 
The monthly 'Alawi' government pay corp members is the same in all 36 states of the Federation. If it happens you receive little or nothing from your Place of Primary Assignment (PPA) compare to what your friends get at their stations, do not make it a yardstick to avoid saving.
Save and invest the best way you can. NYSC is a haven for opportunities if only you do what will profit you during the one-year program. When your NYSC ends, you can't go back to make any amendments. Now is the time to make a successful service work.
So, start saving immediately. If it will cause you to live on a budget, then do so. The idea is to put away something no matter how small to invest in a bigger project.
If you begin the year with a plan, you will easily find ways to maximize the 'stipends' instead of blowing it all up as each month passes.
4. Learn Relevant Skills
I love the idea of having a plan from the onset of your service year. Because it positions you to be in control all through.
Learning a skill too will only be relevant if you need it. Maybe what you need are soft and digital skills that will amplify the value you bring to the market.
Meanwhile, many corp members get busy with non-profitable skills they may never use during and after NYSC.
I do not mean to undermine the need to learn new things or take professional courses as the case may be. All I'm emphasizing is that you invest your time in what is relevant and profitable to achieve a successful service year.
Except for self-gratification, learning a new skill does not make you have a successful service year. What does is when the skill can bring monetary value or help you upscale in the future.
5. Stay Healthy
Frequent visits to the hospital will not tell well on your bank balance. If half of your earnings go to medical help, what happens to the goals you want to achieve?
On the occasion, where you were managing an aliment before NYSC, ensure you maintain your routine to stay fit. Stay clear from getting infected, maintain personal hygiene, and keep preventive measures to stay safe and healthy.
Health is wealth. So, don't be negligent about your body, and what you eat and drink especially at such times of pandemics. You don't want to lose your health for anything.
6. Network
Networking begins during the 3 weeks Orientation Exercise. Be humble and friendly because you don't know what can become of anyone you meet at the camp.
NYSC allows you to meet people of high caliber. Maximize the power of your Khaki to build contact with reputable networks in your community, town, and state.
You may never get the same opportunity to meet rural and urban leaders, youth chiefs, and other resourceful persons. With your network, you can influence situations in your favor even after NYSC.
Hence, intentionally connect with people around you and give them value. Let them also find reasons to relate with you for work or other positive purposes.
7. Serve Heartily At Your PPA
Serve heartily at your place of primary assignment. If you are fortunate, you may be retained and likely get a promotion.
Even when your PPA happens to be a school, serve the students heartily. Give your best. Add value and shape lives with the best of your knowledge and expertise. Always remember, what goes around comes around.
Some corp members misbehave at their PPA. They disrespect authorities, serve poorly, and constitute a nuisance at the slightest opportunity.
You may not find your PPA interesting to work in, this is why you should ensure you like the place before accepting to work there.
Recommended: NYSC CDS; Everything You Should Know
8. Prepare Your CV
Don't wait until you complete the scheme before pursuing employment opportunities. One smart way is to create an impressive CV that will attract the right employers to invite you over.
Preparing your CV early will help you identify areas to work on to boost your chances of landing a job. Since creating a perfect CV is not achieved the night, endeavor to use the NYSC period to improve your skills and proficiency in the job market.
9. Put God First
Do you find this absurd? Oftentimes, you can't do much or achieve anything on your own without the help of the Supreme Being.
Therefore, bring in the God factor as you look forward to having a successful service year. One with God is Majority. If you take other points and leave this, you do yourself harm.
Summary
Achieving a successful NYSC begins with your mindset. If you don't see your success in your mind's eye, you may find it difficult to attain any success outside.
We look forward to having your feedback. Feel free to discuss your thoughts in the comment section.