You're not ready for Jamb 2022 Literature in English until you yet get the Recommended Jamb Literature Novels. However, it will cost you a lot trying to buy the Novels for Literature one by one. This is why I'm here to show you how to get all Jamb Literature Textbooks for free to pass Jamb.
Without wasting much time, the best time way to get all 2022 Jamb Literature Textbooks is the Flashlearners Jamb Application. The App Contains over 17,000 Jamb Past Questions and Likely Questions as well as all Literature Novels. It has both Android and Desktop Version.
The good news is that, when you get the Flashlearners app, it comes with 16 Free Jamb Novels. For each Novel in the app, you will get the Author, Introduction, Background, Setting, Themes, Language and Style including all Chapters in the Novel. This is even more feature-rich than buying Novels in the Market.
Recommended: 20 Likely Literature Questions in Jamb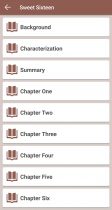 The good news about the Flashlearners Jamb application is that you don't need internet connection to read the novels. They are all available offline. After reading each novel or chapter, you can go ahead to answer likely questions from the novel (still on the App). You will get accurate answers for each question you didn't get correctly.
The Following are list of Recommended Jamb Literature Textbooks 2022 in The Flashlearners Jamb CBT Applications:
Jamb Sweet Sixteen
Harvest of Corruption
Othello
Faceless
Lonely Days
Native Son
Vanity
Ambush
Piano and Drums
The Dining Table
The Panic of Growing Older
The Anvil and the Hammer
Crossing the Bar
The Pulley
The School Boy
The Proud King
What are you waiting for? Click here to get the Flashlearners Jamb CBT App now to start enjoying reading for Jamb. Trust me, it is worth it.
Not just Jamb literature textbooks and past Questions, you will enjoy other features like calculator, Questions Search, Performance Analysis, UTME Challenge to win 30k, School finder, dictionary and more. All in the Flashlearners Jamb CBT Software.
Hope you found this information helpful? Feel free to share with others and don't fail to let me know how you feel using the comment box. You can also share with friends using the share Buttons.
Recommended: 100 Questions Jambites ask and answers that work