Jamb has Started Giving Admission on the JAMB CAPS Portal. Visit jamb.gov.ng to Check your Jamb CAPS Status And Accept or Reject your Admission Offer For 2022 or Jamb 2023.
To Check Jamb CAPS Admission Status for UTME or Direct Entry, Visit Jamb Portal, Enter your e-Mail & Password, Go to Admission Status, Enter your Jamb Reg Number, And Access My CAPS.
How To Check Jamb CAPS 2023
The following are the 8 steps you need to check Jamb Admission status on Jamb CAPS for any year:
Visit Jamb Website
Go to e-Facility account/Login
Enter your Email And Password
Click Login to Access CAPS
Go to Check Admission Status
Enter Jamb Registration Number
Click on Access My CAPS
Accept or Reject Admission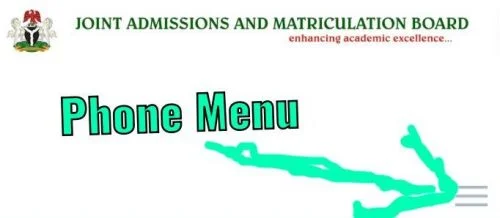 Access My CAPS
This option is to access CAPS for Admission status and other related services.
With Access My CAPS, you will see your Jamb Reg. Number, Institution, Course, UTME Subject Combination, Congratulations you have been offered Admission (if admitted) and choose to either accept or reject the admission.
My Admission Status Format
If you're admitted into the University of Benin to Study Mechatronic Engineering, this is what your Jamb CAPS Admission Status will look like:
Congratulations _your name_ !!!

You have been offered admission for a 5-Year FIRST DEGREE Programme into the UNIVERSITY OF BENIN, BENIN CITY, EDO STATE.

Course MECHATRONIC ENGINEERING in the Faculaty of ENGINEERING/TECH/ENV.
Jamb Admission SMS (CAPS Message)
SMS from JAMB CAP showing that you have been offered admission will be in the form below:
Dear Candidate, Congratulations, you have been offered admission on JAMB CAPS. Pls log in to the JAMB e-Facility site at https://jamb.gov.ng/efacility/login or download the JAMB CAPS mobile app from the app stores to either accept/reject this admission offer before it lapses. JAMB. Click here to Download the mobile app.
If you received the message above, then congratulations. You have been officially admitted by Jamb. Your school of choice will admit you as well if they are yet to upload your name to the admission list.
How To Accept Jamb CAPS Admission
Access Jamb CAPS, See your Admission profile, Jamb Reg, Institution, Course, and UTME Subject combination, you will see Admission Status.
Under CONGRATULATIONS YOU HAVE BEEN OFFERED ADMISSION, Accept and Reject buttons will appear.
To accept your admission on the Jamb Caps portal, simply click on the accept button. You will see something like, "caps.jamb.gov.ng says, Are you sure you want to accept this admission offer? Then click on okay. You have successfully accepted your admission on Jamb Caps.
After accepting your admission offer, make sure to exit or refresh the page so that you are not asked to accept admission again even when you have already accepted.
Confirming whether you have accepted admission on Jamb caps portal or mistakenly clicked on reject is simple. After accepting the admission, the Reject Admission button will be blank.
You can no longer click on the link. Accept admission link will still be clickable. Under the accept admission button, you will see Record(s) Successfully updated!
Another way to confirm if you have accepted the 2022 admission status on Jamb Caps or mistakenly rejected the admission offer is to text STATUS 2022 to 55019. To confirm 2023 admission on the Jamb Caps portal, simply send STATUS 2023 to 55019.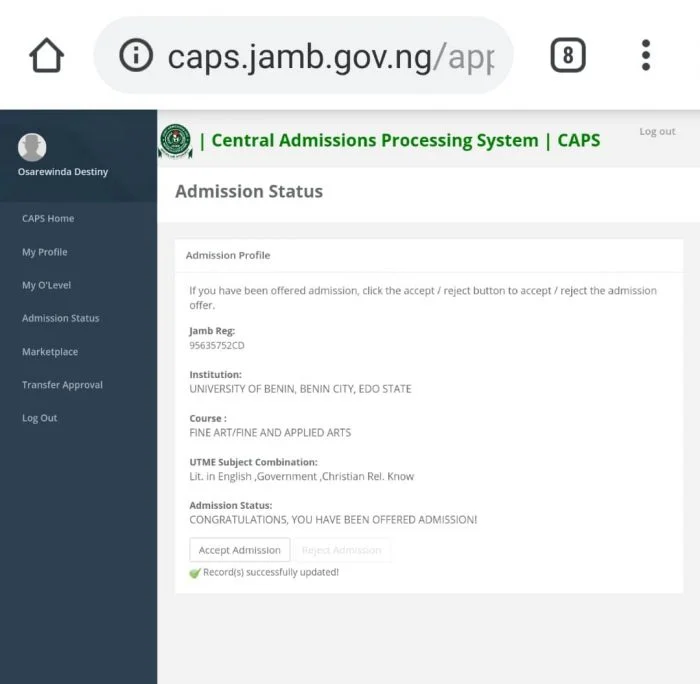 Recommended: Guide to help you gain admission
 How To Reject Admission On Jamb Caps
To Reject your admission on the CAPS portal, simply click on the Reject button. You will be asked, "are you sure you want to reject the admission? Reject the admission if you are not okay with the school and course you are offered admission to study.
Confirming whether you have rejected admission on Jamb caps or mistakenly clicked on accept is simple.
After rejecting the admission status, the Accept button will be blank. You can no longer click on the link. Reject admission link will still be clickable. Under the reject admission button, you will see Record(s) Successfully updated!
Another way to confirm if you have rejected the 2023 admission status on Jamb Caps or mistakenly rejected the admission offer is to text STATUS 2023 to 55019.
To confirm whether you Rejected 2022 admission on the Jamb Caps portal, send STATUS 2022 to 55019. You will get feedback on whether you rejected the admission.
Recommended: Meaning of welcome, recommended, admission in progress
Issues Checking Jamb CAP And Solutions
Jamb CAPS Website Slow Loading
The Jamb Caps Portal can be very slow sometimes. If you click on a link, it will seem like it will not respond. It is most times not because of your Network.
The issue is due to the fact that many persons are checking admission status at the same time making the server very slow.
The solution is to refresh the page or login again. I have offered a solution to an invalid email/username or password when trying to log in below this page.
Recommended: How to print Jamb admission letter
Invalid E-mail Address or Password
Jamb Caps Portal can tell you an Invalid Email or Password…
When you visit jamb.gov.ng/efacility, you will see a box to enter your email and password and then login. If you get the error, Invalid e-Mail Address or Password, Try Again then it means something is wrong. It is either your email was not entered correctly or the password you entered is wrong.
Passwords are case-sensitive, when it comes to password, boy is different from Boy. The first is all small letters while the latter start with a capital letter.
Keyboard issues may also lead to this. If your keyboard is bad, you may think you're entering the correct password but meanwhile, you are entering the wrong thing.
If you are sure of the email and password you entered plus the fact that your phone or laptop keyboard is working very well, but the issue persists, then you have to reset the password.
How To Reset Password To Login To Caps
Forgot your password?
Click here to reset your password.
On the Jamb Caps Login Screen, you will see Click here to reset your password. Enter your email and date of birth and then click on the Get Password link via Email. Now, open your email and follow the link sent from Jamb to reset your Jamb password.
Some times, it returns the Jamb e-facility Error handle as shown below:
We are sorry

The page you are looking for might have been removed, had its name changed,
or had processing error or is temporarily unavailable
If you are having the error above after trying it for three different days, then your best bet is to visit any Jamb office or approved Jamb CBT Centre for 2019/2020 to reset your password and be able to access your Caps and Jamb profile once again.
Jamb Caps Says Welcome
Many candidates complain that the Jamb cap is not Displayed. We can not debate the fact that Phones have taken over laptops when it comes to browsing.
However, there are certain things you can not see when you are viewing a mobile version of a website. A good example is when you are checking admission status on Jamb caps portal.
After Caps Login, many candidates are stuck at the welcome page without a button to click. This makes many of them run to cyber cafes when they can check admission status on their phone.
This is where the Desktop version comes in. The desktop version will help your phone display sites the way it would appear in Laptops/Desktops.
You're Not Eligible To Use This Service
When you Login to Jamb Website, Enter your Registration Number and Click on Access my CAPS, Your information is supposed to be displayed alongside your Jamb Admission Status.
For some Candidates, Jamb Caps says "You're not eligible To Use this Service" even when they have already been offered admission by Jamb and School of Choice.
Possible causes of you're not eligible to use this Service in Jamb Caps Are:
Wrong Jamb Registration Number
You did Register Jamb Correctly for that Year
You chose the wrong examination year
Solution To You're Not Eligible To Use This Service:
If you didn't make any of the mistakes above but Jamb Caps keeps saying you are not eligible to use this service, then the best solution is to Visit any Jamb office close to you.
Check Jamb Admission Status With Phone
To Check Jamb CAPS Admission Status using Android or iPhone, visit jamb.gov.ng/EfacilityLogin and login with your Email and Password. Request Desktop Version in your Phone Browser and Click on Check Admission Status.
By Requesting a Desktop Version, you can see what cyber cafes see on their laptop right on your phone. With this, you can check your admission status on Caps without being stuck on the welcome Screen. It is very easy to request the desktop version.
I will show you how to switch to the Laptop version on Operamini, Firefox, Safari and Google Chrome.
How To Request Desktop Version For Browsers
A. Request Jamb Caps Desktop Site (Chrome)
Open Google Chrome
Visit www.jamb.gov.ng
Tap on the 3 Dot Chrome icon
Scroll to the Request Desktop Site option
Follow the Same step to go back to Mobile View
B. Jamb Caps Desktop WebSite (Firefox)
Open the Firefox
Visit jamb.gov.ng
Tap on the 3 Dot icons at the top right corner
Locate Request Desktop Site
Follow the same step to disable the desktop version.
C. Jamb Caps Desktop Site (iPhone Safari):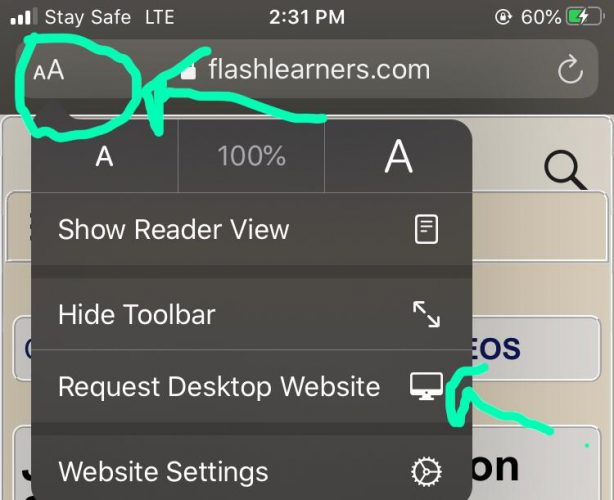 Open the Safari browser on your iPhone
Visit e.g jamb.gov.ng
Click on AA close to the Url
Tap on Request Desktop Website
Use the same method to go back to the mobile view.
D. Request Caps Laptop Website (Operamini):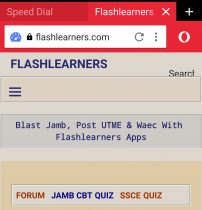 Open Opera Mini
Visit Jamb.gov.ng
Tap the Opera mini Logo that looks like a circle
Select Desktop Site
Follow the same step to go back to the mobile view.
Jamb Caps Market Place Admission Offer
Jamb caps marketplace is where you are been made marketable by Jamb. Jamb advertises your Score to Various institutions. The schools now decide whether to admit you are not. This now results in you gaining admission into a school you didn't apply to.
Most time, Jamb Market place is a result of you not meeting the requirements of the school you applied to (Low Jamb and Post Utme Score). So long admission is still in progress, there is a high chance that you will gain admission.
See Also: How to check Jamb caps market place
What If I Mistakenly Accept Admission? I Mistakenly Click Accept Admission In My Caps Portal? If you mistakenly accepted admission when you have not been offered admission by any school yet then it's no issue. However, your admission is gone if you reject it.
My Jamb CAPS For Universities And Polytechnics
Jamb cap login is the same for all schools in Nigeria. No matter the University, Polytechnic or college of Education you applied to, it is the same way to check your caps Jamb admission status. Unilorin Jamb caps login, Uniuyo caps, Unilag caps is the same as UNIBEN Jamb caps login.
The way you check Unilag Jamb caps admission is the same for UI. This applies to schools like UNN, LASU, Ahmadu Bello University (Abu Zaria), Federal University of Technology Minna (Futminna), University of Ilorin (UNILORIN), University of Port Harcourt (UNIPORT), Federal University of Technology Akure, UNICAL, Bayero University And Auchi Polytechnic.
Other schools concerned are FUNAAB, UNIABUJA, Nnamdi Azikiwe University, Yabatech, Adekunle Ajasin University, Federal University of Technology Owerri, University of Uyo (UNIUYO), UNIJOS, Olabisi Onabanjo University (Ogun State University), Delta State University Nigeria (DELSU), Landmark University, Ambrose Alli University Ekpoma, Polytechnic Ibadan, NILE, Edo State University, Kaduna State University, PTI and FUPRE.
Recommended: Accepting admission outside Caps
Hope you found this article helpful? Feel free to comment and don't fail to share with friends using the share buttons. I wish you good luck in your Jamb Cap admission process.