Jamb Central Admission Processing System (Jamb Caps) was introduced in 2017. Since the announcement of Jamb Caps, you don't only need to check your admission status on Jamb Portal. You must choose to accept or reject the admission.
Of course, you can only accept or reject admission if you have been offered one. I have already explained how to accept or reject admission on Jamb Caps portal. You may click here to check it out or continue reading the reasons you should never accept any admission outside Jamb.
This is and various Universities, Polytechnics and Colleges of Education will release admission list on their website. Even some schools you didn't apply to may send you messages that you have been offered admission.
Irrespective of the school that offers you admission, make sure that the admission reflects on Jamb Caps Portal. Jamb may take time to upload the admission list after your school has already offered you admission on their portal. But you must make sure that Jamb admits you before talking about Resumption to avoid the following consequences…
Why You Shouldn't Accept Admission Outside Jamb CAPS for
The following are consequences of resuming school when your admission status has not been updated on Jamb Caps Portal:
You won't be able to print Jamb admission letter
You can't go for youth service
You can't get certain Jobs
Jamb regularization issue
Wasting time and resources
You Won't Be Able to Print Jamb Admission Letter
Jamb admission letter is the biggest evidence to show that you have been offered admission by the Joint Admission and Matriculation Board (Jamb). The requirement for Jamb admission letter is that you must have been offered admission by Jamb and accepted the admission.
If you were offered admission only by your school of choice, you won't have access to Jamb Admission letter. Admission letter by Jamb is very important to the extent that some major Institutions won't allow you to do clearance or registration without a Jamb admission letter.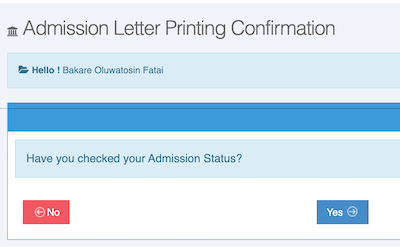 You Can't go for Youth Service
Nothing is as sweet as wearing your "khaki" and showing off at NYSC camp after graduation. You can't afford to miss interesting stuff like NYSC Mobilization, seeing your name on Senate list, NYSC Orientation, 33k allowee and primary place of assignment (PPA). You must be offered admission by Jamb to enjoy these things.
You Can't Get Certain Jobs
You can't get any job placement which requires the certification or endorsement of the Joint Admission and Matriculation Board (JAMB) until you are offered admission by Jamb.
The first thing Jamb checks before giving you any document is your Jamb Admission Status. Until your admission status shows Admitted, you may not benefit from certain things Jamb has to offer.
You will have Jamb regularization issue and also end up wasting time and money spent on school fees and other stuff relating to your school.
Hope you found this helpful? Feel free to let me know how you feel using the comment box. You may also share with your friends using the share buttons below.
Recommended: FAQ About Jamb Caps portal