How To Know Your Password Or Login To Jamb Profile 2019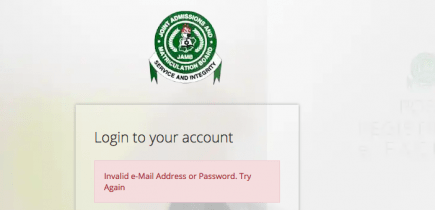 Jamb 2019 profile creation method is different from that of 2017. The year Jamb introduced the use of Jamb profile, the creation process was 100% online. However, Jamb introduced the use of SMS to create Jamb account in 2019.
You may be wondering, how do I log in to my Jamb profile and what is my Jamb 2019 profile password? We shall briefly discuss this topic here…
Get Jamb CBT App 2021

» Over 16,000 Jamb Questions Offline
» Competition To Win N30,000
» All Jamb Literature Novels
» Jamb English Novel "The Life Changer"
» Free Video Classes For All Topics


Now, when you sent sms to 55019, your name was automatically registered in Jamb portal. During Jamb registration, you were then required to put down your email (while some centres will ask you for your password). After Jamb registration, you will then be told your Jamb profile email/username and password (The email will also be in your Jamb slip/printout).
That is all, you will henceforth be logging in to your Jamb profile with your email and password.
How To Restore Forgotten Password
If you have tried to log into your Jamb profile and keep getting errors of invalid password, there is hope for you. It is very easy to resolve this. Click here to reset your password.
How To Login To Your Jamb Profile
It is very easy to login to your Jamb profile. All you need to do is visit http://www.jamb.org.ng/efacility/ and enter your email and password. Then, click on login to continue to your Jamb dashboard.
The Best CBT Applications

Get Jamb CBT App, Waec App, Bece App, Ncee App Or Ijmb App.



Win Prizes

: Install Any Flashlearners App to Win Up ₦30,000 While Learning.


Things You Can Do With Your Jamb profile
There are 10 amazing things you can do with your Jamb profile. The good news is that you can do them for yourself and by yourself. I will advise that you login to your Jamb profile at least once in a weak so that you get used to it. Simply click here to know all the things you can do with your Jamb profile.
See Also: How to study for long hours without sleeping
FLASHLEARNERS FREE VIDEO TUTORIALS

SUBJECTS: Learn Maths, English, Chemistry, Physics And Social Science Subjects.



EXAMS: 

Prepare For African Exams, International Exams And Scholarships.


RECOMMENDED
WHAT ELSE DO YOU WANT?
Latest posts by Isaac Inegbenehi
(see all)