Jamb 2023 Slip Printing for Exam Date, Time, and UTME Centre will start on the 22nd of April, 2023. The Reprinting of the UTME Slip foR the Exam Date and Venue usually begins 7 days before Jamb UTME.
How do I Re-Print my Jamb slip for 2023 UTME to know my Jamb Date, Jamb Timetable, and Centre? Learn how to Reprint Jamb Slip Below or Check here to Watch Jamb Videos for all Topics.
Jamb Re-Print Dates (History)
Jamb 2023 Reprinting begins 22nd of April, 2023
Jamb 2022 Reprinting date was the 29th of April, 2022.
Jamb 2021 Reprinting was on the 12th of June 2021.
Jamb 2020 Reprint Date was the 6th of March 2020.
Jamb 2019 Reprint Date Was April 2nd, 2019.
5 Steps To Re-Print JAMB 2023 Exam Slip
Jamb sometimes sends the slip through email. In this case, you will need to download the slip on your phone and print it out. But whether or not you get the slip via email, there are other ways to check and reprint your Jamb date slip.
Method 1:
Visit Jamb.gov.ng/efacility
Scroll to UTME 2023 Exam Slip Menu
Enter Jamb Registration Number
Click On Print UTME Exam slip
Done
Method 2:
Visit the Jamb Reprinting portal here portal.jamb.gov.ng
Enter Jamb registration number, Email, or SMS
Re-Print Jamb slip.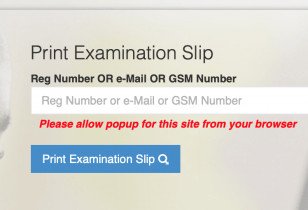 How To Reprint Jamb Slip Via Email
If the slip is sent to your Email, follow the procedure below…
Open your Email
Check Message from Jamb
Open the message containing your Jamb slip
Scroll to the end of the email to see the attachment
Click on the attachment and download
Send the slip to a system connected to a printer for Printing
Done.
Recommended: Jamb sends slip via email
Instructions For Jamb Reprint
Note the following before going ahead to Reprint your Jamb Slip this year:
You can check your exam date and venue with your Phone.
Connect to a Printer because Jamb Slip hard copy will be required at the Jamb center.
You can't register Jamb in Cyber Cafes, but reprinting of Jamb slips can be done in any cafe.
Jamb Slip reprint doesn't cost much. Don't let any business center charge you more than #150 for Reprinting.
It is highly advisable that you make photocopies of the Jamb slip. You will need a copy to keep and about two copies to take to your Jamb examination center.
You can choose to reprint your Jamb slip in Colored or Black and White.
You can check your date and still reprint the Jamb slip without email/username and password.
After learning how to reprint your Jamb slip below, you may Click here to Watch Free Jamb Video Tutorials for all Topics.
Recommended: How to fully prepare for jamb in one week
Reprint Jamb Slip Without Email Access
Step 1 and Step 2 above are perfect to reprint your Jamb Slip if you can't access your Jamb Email Address. I will give you solutions to some Email Problems:
Jamb made a mistake in my email.
My Gmail has been disabled due to invalid activity.
I have forgotten my Gmail password
Another person's email was used for me.
I cannot log in to my mail used to create the Jamb profile.
If your issue is among the ones I listed above, continue reading for possible solutions. However, if you are facing an entirely different issue, feel free to communicate with me via the comment box.
Jamb Made Mistake In My Email
If jamb made a mistake in your email by typing, for instance, aghoghojefferi@gmail.com instead of aghoghojeffery@gmail.com. You can correct this mistake by creating a new email address with aghoghojefferi@gmail.com to match the mistake that Jamb made. With this, your slip containing the date and venue shall be sent to you.
What if the email is already being used by another person? Simply contact the person via mail and tell him about your situation (He doesn't necessarily need to be a fellow Jambite). He will gladly forward any email he/she receives from Jamb to you. After all, you may not need the email after printing your admission letter.
It is no news that many email addresses have been banned due to invalid activities. One reason for this is that many persons did not create the Gmail account properly.
Most candidates, especially those who created their email in cyber cafes don't get it verified. You need to verify your phone number while creating your Gmail account to avoid stories that touch.
Now, all hope is not lost. You may click here for how to access your email that has been disabled due to invalid activity. With a very good appeal, you will gain access to your email again.
Forgotten My Email Password
If you have forgotten your mail password then be happy because it is a minor case. Simply click on RESET/FORGOT PASSWORD on the login page. This step will help you reset your password to the desired one.
If you are unable to login to the email used for your jamb profile, it could be that you didn't enter the correct email and password. Check that your information is correct and try again. You can also scroll up to see the solutions I have explained above and apply them.
Feel free to drop your comment and don't fail to share this life-saving Flashlearners article with friends and well-wishers.
Read Also: How to read and pass jamb once
Related To JAMB Reprinting
When is jamb reprinting starting
Jamb reprint date 2023
Jamb reprint 2023
Jamb mock Slip Reprinting
Jamb reprinting date
When is the Jamb reprinting date
Has the Jamb date been postponed?
Visit the Jamb reprint portal
How to Reprint Jamb Date
Jamb Reprint Slip
How to print out Jamb slip.
How do I see my Jamb Date? To Know your Jamb CBT Date and CBT Centre, you must Reprint Jamb Slip. To Reprint your Jamb slip, you need to log in to your Jamb Profile and Download the Jamb Slip.
Recommended: How to pass jamb by all means