If  you have ever encountered the problem, "We've detected unusual activity on the account you're trying to access" while accessing your Gmail for Jamb profile then this article is for you. Relax and be happy because I am about to teach you how to get your Gmail account back.
When this happens, you shall be required to Provide a phone number to continue. Google will also add, We'll send a verification code you can use to sign in.
But the painful thing is that you won't get verified even when you enter the phone number that was used to create the gmail account for your Jamb profile. Whereas you need the Gmail to receive your Jamb slip, exam date and examination venue.
Read Also: How to properly create gmail for jamb profile
How To Restore Your Gmail Account
Before you can recover your account, you will be required to fill an appeal form. By submitting the request, you confirm that:
You own the disabled account.

You agree to let Google review your account and its content to evaluate your request.
Fill Out The Form
To get your account back, you shall be required to fill a form. You may click here to fill the appeal form. The form usually request the following details:
Your Gmail address that has been disabled
Describe what you were doing before the account was disabled.
Fill the recaptcha
Click on the submit button.
What Happens Next
After you submit the form, Google will review your request.

Google usually email you within 2 business days to let you know if your account has been restored or not.

You will receive a mail that looks like the one below in the email address you provided for Google to contact you.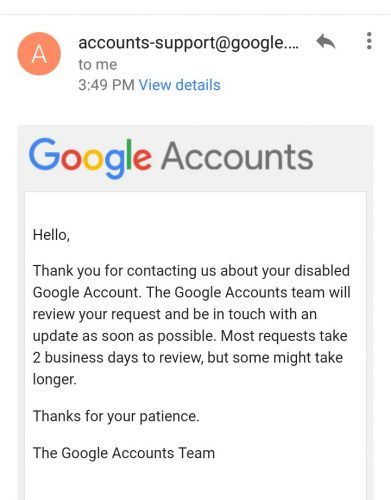 You account will now be reviewed for approval. That's all. Feel free to share with fellow jambites.
See Also: How to pass jamb once and for all