Has Jamb started Giving Centres and Exam Timetable for Jamb UTME… You will need to Reprint Jamb Slip for Exam State, Venue, and Time.
You don't get to know your Exam date, Time, and Centre after Jamb registration (true). Jamb sends your exam details when it is about 7 days before the examination. You can then REPRINT JAMB SLIP. Reprinting of Slip continues until Jamb Begins and you can do it on your own.
If you don't see your Jamb Exam details yet. What to do? Keep checking back for the day Jamb has fixed for you. You may not receive your exam date and center at the exact time Jamb will ask you to do so. Be rest assured that it will be updated before Jamb Begins.
How do I know my exam date and State? All you need to do is log in to the email account that you used to create the Jamb profile and check the recent message from Jamb. All direct link is also shared here to check without Email.
Jamb may not send you an email. There are many other ways you can check your Jamb date. I think this is good news to Jamb candidates who have email issues.
A question comes to mind, how do I reprint my Jamb examination slip without email? It is very simple and straightforward. Check here for the various ways to get your Jamb printout.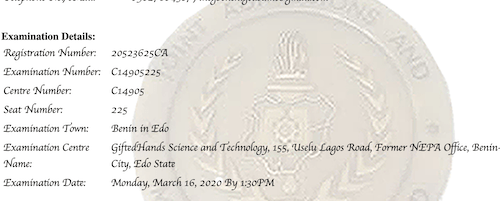 Recommended: Jamb exam date, when jamb is starting?
Before you conclude that you have not gotten an email from Jamb, Ensure to check the spam folder in your email. The message might be there. On the other hand, you may just want to login to your Jamb profile to check and print-out your slip.
If you have checked your mail and it is not there, click here to see what to do right now. Have you seen your Jamb exam date and venue now? Let me hear from you via the comment box.
After Jamb Exam Center, What Next? This is a very important question that should be asked by any Jambite who is eager to score extremely high in Jamb.
After printing out your Jamb slip, what next? It is time for you to start finalizing preparations for Jamb. Make up your mind that this will be your last Jamb.
As part of my hard work to ensure you pass Jamb, I have posted Powerful articles that will launch you into amazing scores in Jamb. You may want to check them by clicking here