Paraphrasing tools can help students turn in essays faster without plagiarism. They can rephrase any text, no matter its length or style in no time and give plagiarism-free results. These tools are free and can process large amounts of text. 
However, they can take up to 10 minutes to process 2000 words. Another downside of these tools is that they contain distracting ads. The pros outweigh the cons for the average student. But, which paraphrasing tool you should use for plagiarism-free academic writing?
This article will answer this question and describes the top online paraphrasing tool for plagiarism-free academic writing.
1. QuillBot
If you're looking for a rephrase tool to help you write an essay, paper, or dissertation, you should try QuillBot. This paraphrasing tool has many benefits, and its free and premium versions offer plenty of features. 
However, it's important to remember that you should avoid plagiarism by manually editing your work after using Quillbot. It also features a full-sentence thesaurus, which is great for rewriting academics that have already been written. 

There are different modes to choose from when paraphrasing text: formal, shorten, and expand. QuillBot's summarizer is especially helpful for writing abstracts. Once you've chosen your mode, QuillBot will make suggestions for synonyms for each word.
In addition to the various modes, paraphrasingtool.ai also uses unique phrases and rewrites content word-for-word, so your work will look like your own. This rephrase tool employs progressive neural networks to replace the keywords in your content with the closest meaning. 
In addition to this, it also considers the word's grammatical form and role. Using it can help you submit your academic work without fear of plagiarism. And, you don't have to worry about paying for its services since it's a free tool.

However, it's important to proofread your work before submitting it to have a full proof flawless academic writing. It also has several modes that help you outfox Turnitin. With these distinct paraphrasing modes, you can outsmart Turnitin having unique phrases. 
The Paraphrasingtool.ai provides four modes for you to choose from. The Text improver mode focuses on making the academic writings quality as much as possible while the creative mode changes synonyms and sentence structure. 
The plagiarism remover mode is best for researchers and writers who have strict plagiarism restrictions. It's free, too, and includes plenty of features. If you're looking for an online paraphrasing tool that doesn't charge a dime, check out Paraphrasingtool.ai. There's no reason to pay for a premium service when it offers so many benefits.
The best online rephrase tool for academic writing Essayrewriter.io will automatically spin articles into unique and plagiarism-free versions. Although manual proofreading is still required, you can spin many articles in no time with a few clicks. 
Article Rewriter is also user-friendly, allowing you to rewrite thousands of articles in no time. The software's advanced algorithms and artificial intelligence (AI) use cutting-edge technology to analyze content and rewrite it in a way that is readable to humans.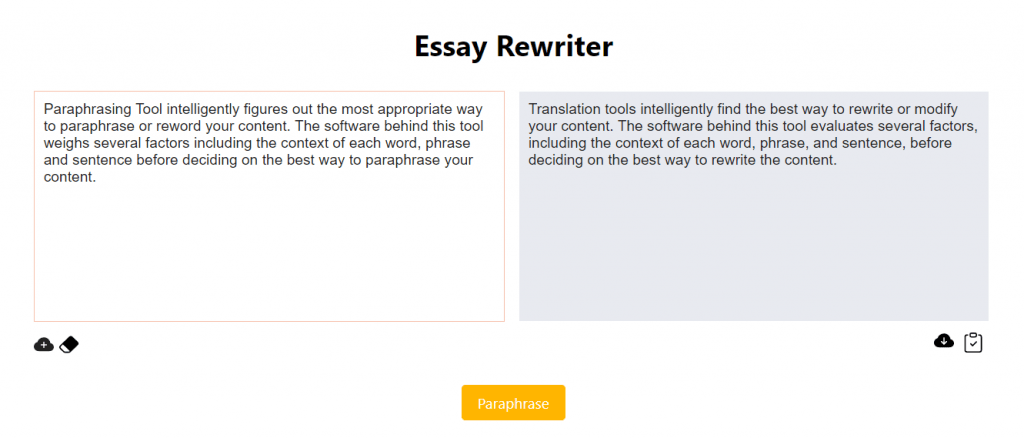 The rewritten text is created by applying part-of-speech analysis, Statistical Replacement Technology, and Emulated Natural Language. Chimp Rewriter is compatible with web and desktop computers and comes with a 60-day money-back guarantee. 
This tool offers a free trial and multiple pricing plans. The free version is available for a limited number of articles, while the premium version allows for unlimited rewriting.
4. Clever Spinner
Clever Spinner looks like outdated software, but it is capable of producing high-quality articles for academics in a short amount of time. Although it is not a very notable rephrase tool, its artificial intelligence technology allows it to identify the context and meaning and suggests appropriate synonyms. 
The software is user-friendly, with six quality levels. Users can even choose the frequency of synonyms used in the rewriting process. Premium versions of the software offer a range of features, including support for different spin syntax formats and mass article creation.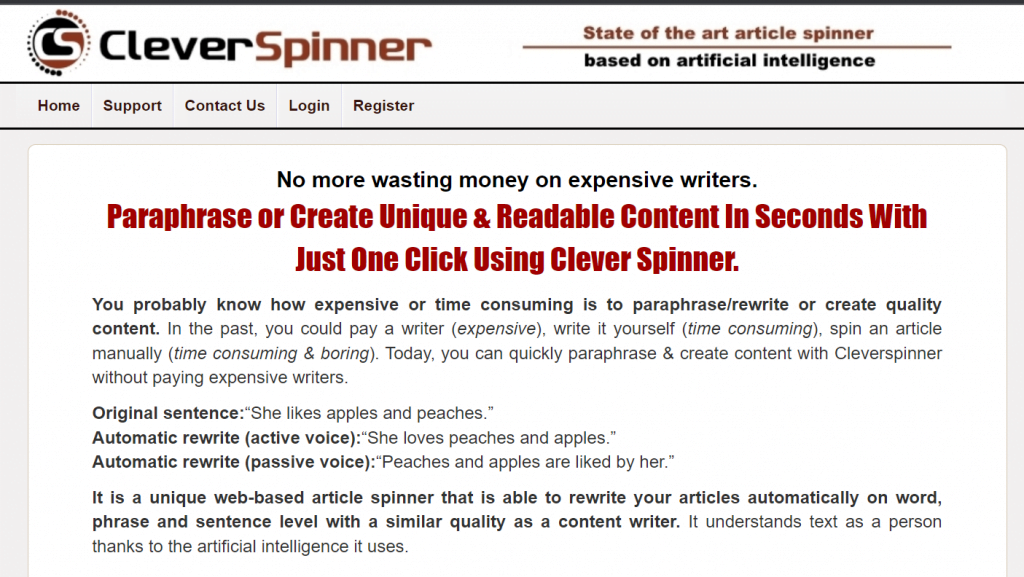 The software also helps you avoid overusing synonyms and rewording content, and offers an option to create a personal synonym thesaurus. Additionally, this tool offers options for choosing a list of synonyms and an exclude-word list. Most of these premium tools are excellent options for academic writing.
5. Chimp Writer
While the Internet is awash with countless plagiarism-checking tools, there is a definite need for a free tool that allows you to rephrase your academic writings in a unique version. 
Chimp writers can make your academic writing easier and more unique. They can also help you achieve higher grades in your final articles and thesis.  Using this tool is an inexpensive, fast, and effective way to generate unique content for your academics.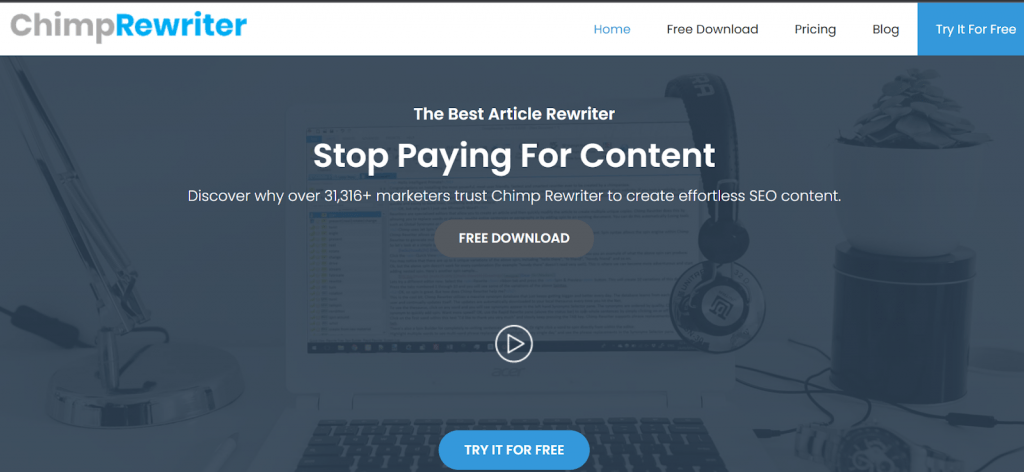 Using Chimp writer can help you avoid mistakes and save you both time and money. It can paraphrase entire articles or portions of text. Its AI will reword the content while retaining its meaning. 
The software can be used for free or paid, and it can work on Google Docs, too. Chimp writer is a great tool for both academics and non-professionals. It also has a built-in thesaurus to make changes to individual words.
Bonus…
6. Rephraser.co
The best paraphrasing tool for creating website content, blogs, and guest posts is surely rephraser.co! The tool is capable of creating not only 100% unique but also reader-friendly content. This rephraser uses AI-powered algorithms and highly trained bots to create human-like articles.
This rephraser is not like the conventional tools which spin words with synonyms; rather, this tool rewrites content from scratch. The tool creates content with a unique style and tone without damaging the context of the input content.
This sentence rephraser can be used for creating new content based on duplicate articles, and users can also use it to remove plagiarism from their own drafts. To create unique content without fear of quality issues, you can test the free version of this tool.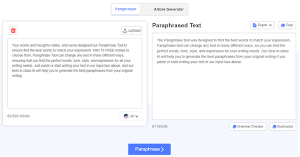 Users can rephrase up to 500 words in one go with this paraphraser. The free version is, however, available for a limited number of articles.
Users can buy the premium version to enjoy unrestricted use of this tool. The premium version of rephraser.co is more affordable than any other tool in this league.
Along with paraphrasing content with rephraser.co, users can also try the free grammar checker, text summarizer, and AI article generator on any device they want!