Waec & Jamb 2021 Videos For Social Science Subjects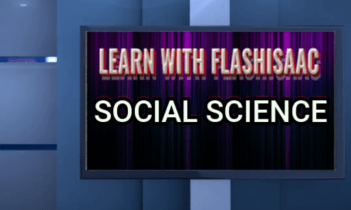 Video Tutorials has gained a lot of exposure among students. Quality Waec and Jamb Video Tutorials Shouldn't be left out. This Post Is Constantly Updated to Cover Free Waec and Jamb Economics, Commerce and Marketing Videos for all Topics.
Waec And Jamb Economics cover Basic Concepts, Economic Systems, Production, Market Structure, Methods and Tools of Economic Analysis, Demand And Supply, Theory of Production, Theory of Costs and Revenue, Market Structures, National Income Money and Inflation, etc. You may click here for complete Jamb Social Science Syllabus.
Recommended Full Waec Syllabus
Waec And Jamb Commerce cover Basic Concepts, Occupation, Production, Business Unit, Home and International Trade, financial institutions, aids to trade, marketing channels and so on.
Waec And Jamb Marketing covers Introduction to Marketing, Marketing Concepts, Products, Markets, Consumer and Organizational Behaviour, sales promotion, aids to trade, International Marketing and so on.
Benefits Of Flashlearners Social Science Video Tutorials
The Mathematics class is free of charge.
It is frequently updated to cover all Waec and Jamb Topics.
The topics are well explained coupled with related Questions.
Questions are solved the way you will understand it.
Flashlearners Social Science Videos will keep you fully engaged.
You can learn at your convenient time and from anywhere.
Option to Pause and take the videos back as many times as you like.
You can take the Flashlearners Mathematics Quiz After every Video.
You can install the Flashlearners App to access thousand other Questions.
Opportunity to ask me any Mathematics Questions using this comment box, on my YouTube Channel or Contact Form.
How to Get The Best Out of The Social Science Videos
Shut down distractions; pay full attention.
Use earpiece or headset if you are in a noisy environment.
Get a calculator (when necessary), pen and note for jotting.
Write Down important points as you learn.
Watch each video more than once.
Solve the questions on your own to see if you can reproduce what you learnt
Don't jump to another video until you fully understand one Video.
Hope you found this helpful? Feel free to share with your friends and don't fail to drop your comment below.
FREE VIDEO TUTORIALS

SUBJECTS: Learn Maths, English, Chemistry, Physics And Social Science Subjects.



EXAMS: 

Prepare For African Exams, International Exams And Scholarships.


RECOMMENDED
WHAT ELSE DO YOU WANT?
Latest posts by Isaac Inegbenehi
(see all)