30 Reasons Why Students Should Start Blogging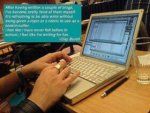 I started blogging as passion and from my experience so far, I think blogging is what students should do. Blogging is very interesting and I recommend that students should blog.
In this article, I will be listing the 30 reasons why students should blog.
Top 30 Reasons Why Students Should Blog
Having a blog is an investment of your time and it will change things drastically for you.
Looking for money to pay some of your bills in school? Starting a blog to make money will help.
Blogging helps you to improve on your writing.
As a blogger, you become very popular in your class, school, and may even become known worldwide.
With the trend of unemployment, starting a blog as a student will make it very easy for you to go professional after school.
  6. Blogging boosts your passion for writing
  7. It will boost your confidence exponentially
  8. It makes it very easy for you to answer comprehension and summary questions
  9. Blogging makes it easier for you to convince your friends and lecturers to get favor.
  10. You become an authority.
  11. You can add it as your job experience in your CV.
---
Good News! Get The Offers Below For Free:
---
  12. Your posts are permanently stored and can be accessed anytime.
   13. It helps you to write a perfect practical report as an engineering students
14.  Blogging exposes you to new terms and concepts like SEO, webmaster tools, Google Panda, etc.
15. It increases your relationship with the internet.
16. Blogging makes you more popular than your lecturers.
17. The more you blog, the more your vocabulary improves.
18. Through blogging you can impress girls or guys in your class.
19. Blogging makes you express yourself freely so the whole world to hear your views.
20. You can change bad things happening in your faculty by crying out through your blog.
21. You become a solution to problems.
22. As a blogger, you will have people that will look up to you.
23. Your parents will be proud of you.
24. You will have the opportunity to partner with Google via Google AdSense.
25. The company you dream to work with might meet you to help them advertise in your blog.
25. Owning a blog automatically makes you a CEO, like me (lol)
26. It will help you engage more on critical thinking.
27. Blogging will make you as current as CNN.
28. You can have fun blogging.
29. Blogging boosts your creativity.
30. Blogging drastically increase your exposure.
See Also: How to get traffic to a new blog
SHARE THIS POST
I Have Started Sending Daily Hot Updates! Enter Your Email To Subscribe
Welcome To Flashlearners... I'm Flash Isaac, Students Advocate, Web Developer, SEO Expert, A Blogger From The Future & An Engineer In The Making.
I Started This Blog As A Passion, With The Vision To Inspire & Empower Young Persons; Helping Them Realise & Maximise their Potentials. You May
Click Here
To Roll With Me On Instagram @Officialflashisaac.
Latest posts by Isaac Inegbenehi (see all)