The dream of every blogger is to dominate Google Frontpage and rank higher than their competitors. Of course, this dream won't come through without Search Engine Optimisation (SEO). The best time to dream is when your eyes are open. Wake up and fix up your blog today!
Search Engine Optimization (SEO) Simply means the procedures you must follow to make your blog rank high on Google, Bing and other Search Engines.
There are plugins that will help you rank higher. After many years of blogging and jumping from one WordPress Plugin to another, I have found the best plugins you must use for SEO and precautions you must take.
Recommended: Best WordPress plugins to rank well
The Best WordPress SEO Plugin
When it comes to WordPress Search Engine Optimization (SEO), the best Plugin is the Yoast SEO Plugin. Yoast SEO is one of the most popular WordPress plugins of all time. It allows you to easily optimize your WordPress blog for Google Front Page. I use the Yoast SEO Plugin on all my WordPress blogs.
You may be wondering, how much will it cost me to get The Yoast SEO Plugin and where can I get it? Yoast SEO is available in the WordPress repository for free.
However, if you want more features or wish to use it for commercial purposes, then you can purchase the Premium Yoast SEO. The free version is more than okay for you (and that's what I  use).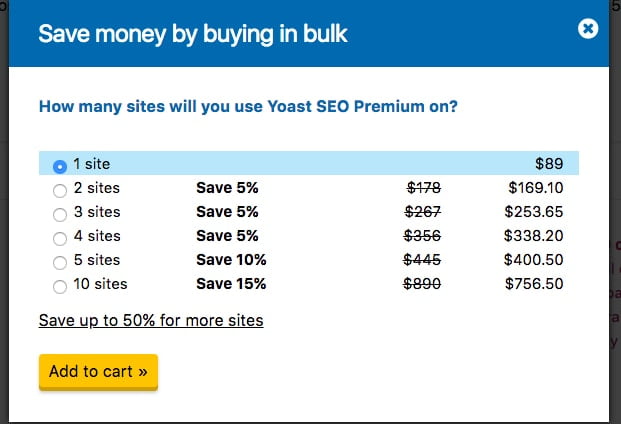 Features of Yoast SEO Plugin
Easy to configure
Structured Data support
It helps you generate sitemaps
Compatibility with so many other plugins
Synonyms & related keyphrases
Automatic internal linking suggestion
Great content and SEO Analysis
Title and meta description templating
Yoast integrates with Google Search Console
It has a reading Tab to help monitor your grammar
Option to choose a focus keyword
It shows you how your site would look on google
write your article and get automatic suggested posts to link to.
 It helps you fix crawl errors
You can edit your .htaccess file from your Yoast plugin
Yoast SEO Helpf you set Canonical URLs to avoid duplicate content
Keep your site in perfect shape
Yoast SEO tunes the engine of your site so you can work on creating great content.
 The Yoast cornerstone content and internal linking features help you optimize your site structure in a breeze.
Yoast optimizes your blog for social media
Semrush and Ryte Integration
Helps in redirection to avoid 404 errors and so on...
Recommended: Free versus premium Yoast plugin
Other Great SEO Plugins Are
Rank Math
All in One SEO Pack
The SEO Framework
Warning!
Don't use Yoast SEO and All-in-One SEO Plugin Together. They may conflict and crash your blog. Be very careful. However, you can use SEO tools like SEMrush, Google Keyword Planner, Broken Link Checker and Rel NoFollow Checkbox with either Yoast or All in One SEO Plugin.
Recommended: Best WordPress plugins to rank well
Conclusion: Yoast is the best OnPage SEO Plugin for WordPress. All you need to do is Install, activate and launch the configuration wizard. If you are not okay with Yoast SEO, then try other great SEO plugins.
Hope you found this article helpful? Feel free to share with friends and don't fail to comment.