Many bloggers are still wondering how to smell Google's Front Page for the first time. For some, the highest they have ever ranked on Google is the 10th page. A lot of bloggers are still struggling to rank on Bing's page 200.
At this point, a question comes to mind, "Is it possible to rank Google front page with a new blog that has few posts, few links, and very low domain authority? Sure, you can rank well with a new blog. I did it with my one-week-old blog.
The truth of the matter is that every blog has the potential to rank on Google front page. This ability is powered by various factors.
One of the factors that determine your ranking is how competitive your focus keyword is. Also, don't copy and paste content directly to your blog, it would harm you.
For a new blog, it is advisable you begin by focusing on less competitive keywords. In the process, try to build high-quality backlinks, strong internal linking, focus on Onpage SEO strategies and other factors that would boost your domain and page authority.
You may want to follow my life-changing guide on Onpage SEO here.
Now, even if you would write posts with competitive keywords, try to be the first to write about it. If nobody has written about it, then you are automatically on front page.
PRACTICAL: To test whether my one week blog could ever smell front page, I had to write a unique post titled "Blogging is not beans" and submitted to Google for Indexing.  It was immediately indexed and ranked number one for about 5 keywords combinations. You may want to try something similar on your blog.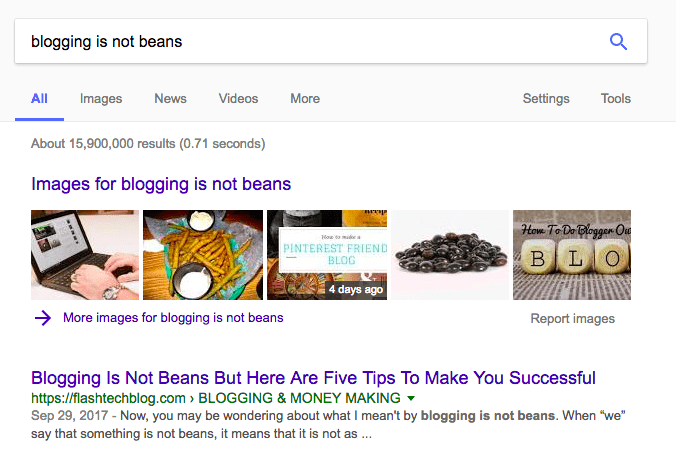 One of the complaints I get from new bloggers is that "my posts take time to appear on Google". That could be fixed by simply submitting your blog or new articles for indexing.
As a blogger, you should be used to crawling, fetching, rendering and indexing. These are the factors that determine how long your posts would take to appear on Google search results. The following links would guide you: