Searchingdog.com is what we shall discuss today. If you have ever gotten referral traffic from Searchingdog.com while checking real time in Google Analytics then this article is for you.
Generally speaking, there are three kinds of website traffic: direct traffic, traffic from search engine, and referral traffic. All are valuable and serve different purposes, but this post focuses on the third kind, referral traffic.
Anytime I check my real time on Google Analytics, I observe thing under Top Referrals; It is traffic from Searchingdog.com. I begin to wonder, what is Searchingdog. Is it a Search engine or a website.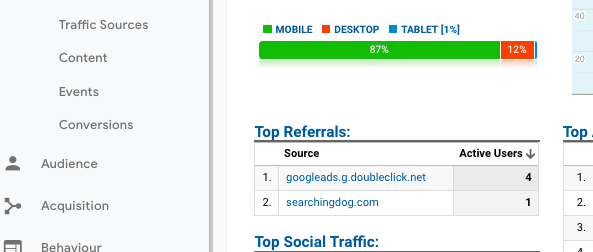 What Searchingdog.com Referral Means in Google Analytics
A few weeks ago, I was having issues assessing the website (Searchingdog.com). Now, the site has started loading. Guess where it leads to? Google Custome Search. For that, It is okay to conclude that Searchingdog.com is a refferal traffic from Google Custome Search Engine (until proven otherwise).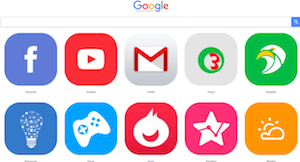 You will hardly find you need irrespective of the keyword combination you use. I tried using the following keywords:
Searching dog in Google analytics
What does searching dog mean
Searchingdog.com referral under real-time
Is searching dog a normal website or search engine
Why do I keep seeing searching dog in my real time
Does searchingdog spam my site
While can't I access searchingdog.com
Searchingdog.com meaning and so on…
I did all that search without getting the results I wanted. How come no blogger has really taken time to investigate this? Or is it only a few of us having the issue? The last time I checked, almost all my blogger friends get referral traffic from this same source. Please do let me know if you are certain about what searchingdog.com really is.
So many bloggers do get referral traffic from Searchingdog, it therfore means that searchingdog is either a (hidden) search engine or a spam search mecahnism. I go with the search engine.
Below is another result I found. However, they did not give a satisfactory answer (In the sense that Google analytics was never mentioned). Continue reading…
The Searchingdog.com redirect is caused by a browser hijacker which is installed by the users, whether that is knowingly or not. Often, this type of program is offered through advertisements or bundled with other software, leaving the user puzzled where this software came from.
Browser hijackers are a type of malware created for the purpose of modifying Internet browser settings without the user's knowledge or consent.
When the Searchingdog.com browser hijacker is installed on a PC, common symptoms include:
Changing the web browser's default homepage to Searchingdog.com
Changing the browser's search provider, built-in search box to http://searchingdog.com
Ability to modify the "˜new tab' functionality to launch the modified search portal page
Loads into the web browser via an extension or add-on
Hope you found this helpful? Feel free to share with other bloggers and don't fail to let me know how you feel using the comment box.