Google Analytics Real Time Different From Metric Total (Active Users)
Google Analytics Real-Time means the number of pages being viewed on your blog or website at any point in Time. As the name implies, it is in real-time and at such the value changes anytime some enters or leaves your site.
Metric Total in Google Analytics means the total number of pages being viewed on your site after adding the number of active users on every page together. You will find Metric Total when you login to your Google Analytics account and Click Overview under Real-Time.
Before now, Google Analytics Active Users on Site and the number displayed on Metric Total do Match. These days there is a big discrepancy. For many, Google Analytics Real-time gets lesser than Meric total or Total Active Users. For others, Google Analytics Real-time data gets too high and it does not match with active users. See the image below…
Sometimes, when you count the number of persons viewing each page, it is more than the real-time displayed. For new blogs these days, there can be active users under Metric Total and Yet Not now is showing under Active Users Right Now. You may be wondering whether its Plugins, Code, Themes or other blog issues causing it.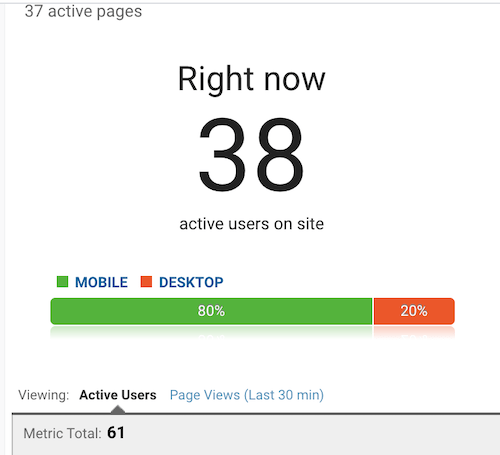 Recommended: Major terms used in Analytics
Is the Issue From Me?
The number of persons experiencing this issue are much And up to 99.9% of bloggers and webmasters stated clearly that they didn't make technical changes on their blog before this experience. At such, I don't think it's a technical issue on your part or due to blog modification. Continue boosting your blog traffic.
Is this GA Real-Time Issue From Hosting?
But I noticed something… When I pointed my blog (flashlearners.com) to another hosting, the issue stopped for some hours. After that time, it started again. At such, I don't think this is a hosting-related problem. In fact, the issue remains in my other blogs on the new hostings.
Should I Be Worried About this Analytics Issue?
Your Realtime users high and does not match with active users total? Then worry no more. The issue is not from your end. Relax since your total daily page views are still correct to a very large extent. Google knows what they are doing. At such, you shouldn't be worried. Don't panic if you are also seeing searchingdog.com as a referral in analytics.
What is the Solution to this 2020 Google Analytics Issue?
There is no solution for now. This is because it is beyond your control. Maybe it will be corrected with time. On the other hand, it may not even be a problem to Google. It may be a temporary change in how Google measures traffic. Is this Analytics issue from Google? Yes.
Recommended: How to make your blog faster
Related Google Analytics Questions
Why are Active User numbers not matching with total pages in Google Analytics? Kolja Siegmund has the following to say: