Google Analytics Real-Time means the number of pages being viewed on your blog or website at any point in Time. As the name implies, it is in real-time and at such the value changes anytime some enters or leaves your site.
Metric Total in Google Analytics means the total number of pages being viewed on your site after adding the number of active users on every page together. You will find Metric Total when you login to your Google Analytics account and Click Overview under Real-Time.
Before now, Google Analytics Active Users on Site and the number displayed on Metric Total do Match. These days there is a big discrepancy. For many, Google Analytics Real-time gets lesser than Meric total or Total Active Users. For others, Google Analytics Real-time data gets too high and it does not match with active users. See the image below…
Sometimes, when you count the number of persons viewing each page, it is more than the real-time displayed. For new blogs these days, there can be active users under Metric Total and Yet Not now is showing under Active Users Right Now. You may be wondering whether its Plugins, Code, Themes or other blog issues causing it.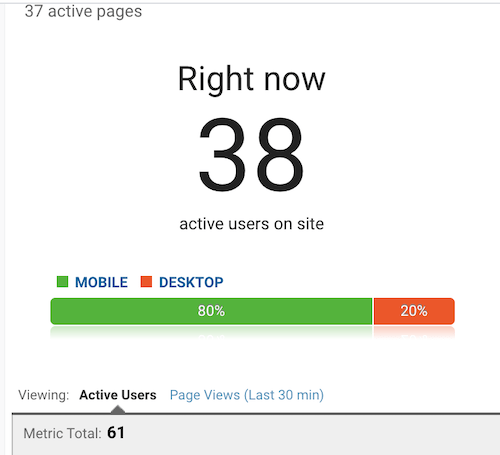 Recommended: Major terms used in Analytics
Is the Issue From Me?
The number of persons experiencing this issue are much And up to 99.9% of bloggers and webmasters stated clearly that they didn't make technical changes on their blog before this experience. At such, I don't think it's a technical issue on your part or due to blog modification. Continue boosting your blog traffic.
Is this GA Real-Time Issue From Hosting?
But I noticed something… When I pointed my blog (flashlearners.com) to another hosting, the issue stopped for some hours. After that time, it started again. At such, I don't think this is a hosting-related problem. In fact, the issue remains in my other blogs on the new hostings.
Should I Be Worried About this Analytics Issue?
Your Realtime users high and does not match with active users total? Then worry no more. The issue is not from your end. Relax since your total daily page views are still correct to a very large extent. Google knows what they are doing. At such, you shouldn't be worried. Don't panic if you are also seeing searchingdog.com as a referral in analytics.
What is the Solution to this 2020 Google Analytics Issue?
There is no solution for now. This is because it is beyond your control. Maybe it will be corrected with time. On the other hand, it may not even be a problem to Google. It may be a temporary change in how Google measures traffic. Is this Analytics issue from Google? Yes.
Recommended: How to make your blog faster
Related Google Analytics Questions
Why are Active User numbers not matching with total pages in Google Analytics? Kolja Siegmund has the following to say:
Google Analytics Live Reports only feature the top twenty (20): Top 20 pages, top 20 events and so on. so, everything that's not in the top 20 is not displayed, which is why the total number of users is not the total of total users on individual pages. Even more: there are time lags in live reporting, for which data is often delayed by about 2 minutes, and for which a single user might be displayed as being on two or more pages at once.
How do I Check total views per posts in Google Analytics?
Visit Analytics.google.com
Login with your Gmail
Go to Behavior on the Sidebar
Go to Site content in the drop-down
Click on All pages.
Top 5 Complains
1. We are seeing the same thing, realtime users on our site is just increasing out of control. We see no other indication of increased traffic. Usually around this time of day we have maybe 400 users, realtime users is right now showing 14000 and increasing fast. All other analytics data is normal
2. (Artem) This doesn't make sense to me either. In fact, the Active Users metric total on the Realtime -> Content page differs quite drastically from the Right now number.
3. (Morore) It happens to a lot of people, with no answer from support at all. It started a few months ago and has NEVER happened before. This is a GA issue, not your webpage.
4. (Joris) Same issue here. Since a few months, we occasionally spin "out of control" in terms of "real-time" active users. We're quite happy with a max. of approx. 1500 active users and these numbers come out of nowhere. (since I took the screenshot below, the number has risen to >6500)
5. I suddenly noticed that my metric total is far far higher than my real-time. What should I do please?
Read Also: How to setup google analytics yourself
Let me know how you feel using the comment box and don't fail to share this post with friends…