Where UNIBEN Gets And Set Post UTME Questions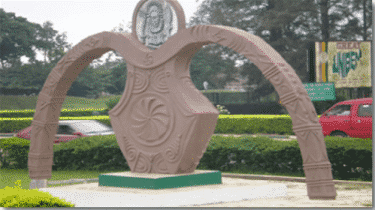 Uniben Post UTME Questions and how to pass: If there is any University in Nigeria that I can discuss with great ease, it is Uniben. This is because I have spent years at the University of Benin and I know the in and out of Uniben.
A few months ago, I wrote a detailed article on the 12 stupid mistakes Uniben students make in after gaining admission. I can also remember writing a detailed article on the documents required for Uniben clearance. You may want to go through both articles above.
Todays's topic "Where Uniben Gets Post UTME Questions And How They Set Questions" has something new to offer. You are about to learn where Uniben gets their post UTME questions, how they set questions and how to pass Uniben post UTME examination once and for all. I will as well explain how Uniben marks and grade post UTME examination.
Contrary to what you may think, Uniben post UTME questions are usually very simple. The only problem you may encounter while writing Uniben exam is the time factor. There is usually no time to check time (Usually an hour for 70 to 90 questions)…
Uniben English questions has been traced to Dandy English and Waec English. If you are able to study your Waec pack and Dandy English very well, then you should not have any problem with the University of Benin Use of English post-UTME examination live questions. Comprehension passages could also be adapted from other sources.
Read: How to answer Uniben comprehension passages
In the University of Benin post UTME, English usually carries the highest number of questions and the highest mark. English questions are usually between 35 to 50 out of the 70 to 90 questions Uniben sets in post UTME yearly.
Now you may be wondering, "that was use of English, what about other subjects"? That's a brilliant question. Uniben examination questions in other subjects are Jamb and Waec standard. If you practiced very well for your Jamb UTME and Waec, with little practice you should be good to go.
Apart from English, the three or four other subjects Uniben set in post UTME are tagged general subjects and they hey carry less than 15 questions each.
Does Uniben Set Current Affairs?
What do you mean by four others? Yeah, Uniben sometimes set current affairs questions in addition to your Jamb subjects combination. However, they have not done this for few years now.
3 Problems In Uniben Post UTME:
Candidates fail Uniben post UTME examination yearly due to three major factors. You need to understand and overcome the factors that I am about to share right away.
The first factor is the time factor. Like I explained above, the number of questions Uniben set in post UTME is 70 to 90. Every student offering calculation subjects will have issues attempting 90 questions in just one hour. The Use of English carries the lions share in Uniben post UTME.
The second factor that makes candidates fail Uniben post UTME is the calculator factor. You are not allowed to take calculator to the exam hall. Trust me, solving in decimal and fractions without calculator takes time.
The third issue is time to prepare. The period between Uniben post UTME registration and examination is very short (Usually two weeks). Only the strong will survive.
Read: How to cram and pass Uniben post UTME
How To Prepare For Uniben Post UTME
You may be asking, how then do I prepare and pass Uniben post UTME examination in two weeks or less? Be happy because your question has been answered. I have written a detailed article on that. You want to go through it now.
Read: How to pass Uniben post UTME examination easily
How Uniben Marks Post UTME Examination
Uniben Post UTME examination is over 100%. That is to say, the highest you can score in the exam is 100/100.
The grading is also simple; your Jamb score will be divided by 8 while your post UTME score will be divided by 2. Post-UTME carries up to 50% of the aggregate score required to gain admission. See more details that that here.
See Also: How post-UTME is good news for you.
Feel free to ask your questions using the comment box. Good luck.
RECOMMENDED
WHAT ELSE DO YOU WANT?
Latest posts by Isaac Inegbenehi
(see all)