When you search for things on Google using a Mobile Phone, blog favicon appears alongside the search results as shown in the image below. However, you may have noticed that your blog favicon disappears from Google Mobile Search. That's probably why you are here.
Don't panic if you noticed that your Favicon Disappears from Google Search. The issue is not from you but from Google and it'll be fixed with time. Before you wait for Google to fix it, check if you have not deleted favicon from your blog. Open your blog with a Laptop and check if the favicon is showing in the address bar.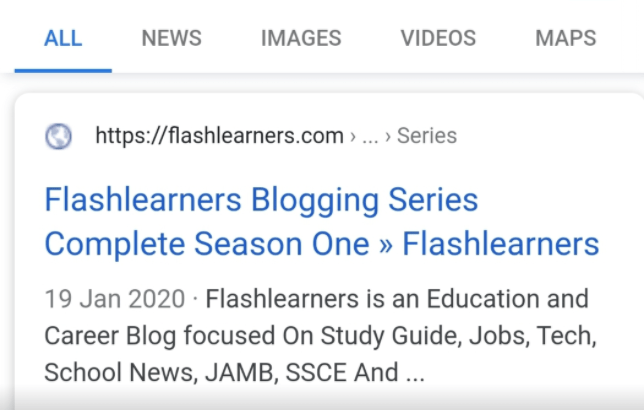 Have you Checked if Your Favicon is Showing in Browsers? If no then follow the steps below to add a favicon to your WordPress Blog:
Go to your WordPress dashboard
Look for Appearance and click Customize
Go to Site Identity
Click on Select site icon
Upload your favicon
Click on the publish button
Clear Cache if you are using a Cache plugin
Refresh your website to ensure the icon is now showing
Close the Customization Tab
Done
Very simple right? Congratulations…
What is a favicon? It's that little icon that represents your website's identity that appears on your web browser's tab. You or your web designer probably set your favicon when you launched your website. Besides looking cool, Favicons help distinguish your website on a desktop when the user has multiple Tabs open.
On mobile devices, if the user saves your website to their home screen, your favicon will display as the icon on multiple devices. WordPress now has one primary place for site owners (no matter what WordPress theme they are using) to add their favicons. If yours is missing, then I have sure you have followed by advise and solution.
Google disabled favicon from showing up on Desktop search. However, Google is reportedly tweaking its search result appearance to see if it is good to bring it back.
Why Blog Favicon Disappears From Google Mobile Result. Hope you found this helpful? Feel free to share with your friends and don't fail to let me know how you feel using the comment box.
Recommended:
---
2. Season two, episode one: Google Panda
3. Season 2 Episode Two: Google's Penguin
4. Flashlearners Blogging Guide And Series
---