Google AdSense CPC is low in Nigeria compared to advanced countries because advertisers bid less on Google Ads and the value of Naira (₦) keeps falling.
Google AdSense is the most popular contextual Ads Network and one of the best ways to make money blogging in Nigeria. However, bloggers who focus on Nigeria traffic earn less than bloggers who focus on countries like America, Italy, Canada, Spain, Germany, etc.
Now, you may be wondering, why do bloggers from many other countries earn more than bloggers in Nigeria? Let me first explain how Google AdSense works and what determines how much bloggers earn from AdSense by Google.
Many brands pay Google to help them Advertise their Products and Services; this is where Google Ads (Adwords) comes into play.
Example, if you sell cars or offer study abroad services, you can freely use Google Ads to promote them. In this case, you are paying Google for Advert. The amount you wish to pay for advert depends totally on you; this is called bidding.
Google explores so many channels to ensure that Ads reach the target audience of advertisers. Google shows your products or services on Google Search, Youtube, Gmail, Blogs that are approved for Google Adsense, etc. Google displays these ads based on your niche and interest of your blog visitors (Audience).
How much bloggers earn? Bloggers get 68% percentage of the amount advertisers pay when ads are displayed on their blogs. You will get ₦3,400 if the ads shown on your blog is worth ₦5,000. This isn't a problem and not just for Nigerians but for every AdSense publisher.
Based on the Economy of some countries, the nature of products, value of the currency, government policies, etc, advertisers in those countries may not be willing to spend much on Adverts.
If on average brands spend less on adverts, it will lead to low Cost Per Click (CPC) and low Revenue per a thousand Impression (RPM), then Bloggers will earn less from AdSense.
Another factor to note is that banner ads will earn you higher CPC than links ads units. I have experimental with links and banner ads so many time. While links ads generate more clicks, banner ads generate more income for the same number of clicks. However, they are both very important ads units you must use.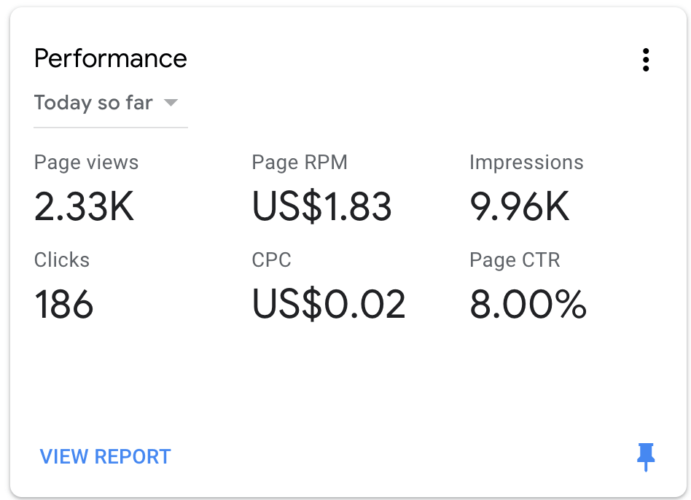 From the analysis above, the following facts can be deduced:
People pay different amount to advertise using Google Ads.
Google displays adverts on your site if you are eligible.
Google only makes 32% of the click amount.
Ads displayed on your blog depends on your niche and interest of visitors.
Some blogging niche earn more than other niches.
Recommended: How much 1k views can earn you
In summary, the reason Google AdSense CPC is low in Nigeria compared to advanced countries is that advertisers bid less on Google Ads and the value of Naira is low. This is why bloggers from other countries earn more than Nigerian bloggers for the same Google AdSense traffic and clicks.
Your best bet to earn relatively higher from Nigeria traffic is to be on higher-paying blog niches (Tech, Sports, etc), improve the quality of your content and improve your Click Through Rate (CTR). Simply check out more ways to boost Adsense earning in Nigeria.
Hope you found this article helpful? Feel free to share with your friends using the share buttons and don't fail to let me know how you feel using the comment box.