Do you want to know how I test my site speed? If yes, then continue reading because I'm about to share my top 5 Page Performance testing Tools and the reasons I love them.
The term page speed refers to how long blog or web page loads. PageSpeed is very important because it affects your rankings. Not just your ranking, visitors are very likely to leave your blog if it doesn't load fast.
There are over 15 free website tools that you can use to measure your page speed. They are not just free but also simple to use. All you need to do is enter your website URL and hit the enter button.
Recommended: Signs that your village people don't want you to blog
PageSpeed tools help you to note the plugins slowing down your site, check whether your HTML, CSS & JavaScripts are minified, Check average page load time, header expires, the performance of your content delivery network, etc.
The top tools for pagespeed and performance analysis are Gtmetrix, Pindom, Webpagetest, GooglePage speed insight and Sukuri load time.
PINGDOM
Pingdom is a page speed tool I love so much. It is one of the most popular website speed test tools. Their reports are divided into four different sections which include a waterfall breakdown, performance grade, page analysis, and history.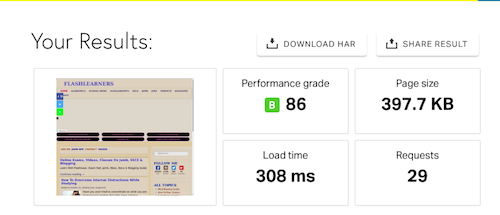 The page analysis offers a great overview with additional information such as a size analysis, size per domain (you can easily compare your CDN assets size vs your domain), the number of requests per domain, and what type of content had the most requests.
Pingdom's speed test tool also allows you to test your website's speed from many locations.
 GTMetriX
GTmetrix is another very popular and sweet website speed testing & analysis tool. One of the reasons I love gtmetrix is that it is very easy to use and the results are in a way you will understand them.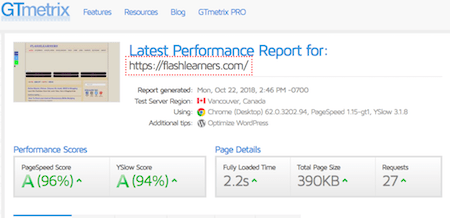 Gtmetrix provides comprehensive analysis as it combines the performance and recommendations offered by Google Page Speed Insights and Yslow.
GTmetrix comes out as a perfect solution for all your speed optimization needs.
 Check your speed with gtmetrix 
WEB PAGE TEST
This is another pagespeed tool I love so much. Web page test let's you run the test from multiple locations worldwide. Each location got one or multiple browsers (Chrome, IE, Firefox, etc. cover the broad range of testing.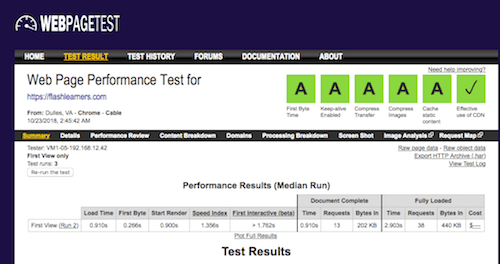 Web page test breaks down the page load time so you can focus on the weak point.
Time is taken to load on the first view
Time is taken to load on repeat view
Content breakdown by request/type
Document complete time
Fully loaded time
First-byte time
Waterfall view
Connection view
Request details and headers
CDN details
 Test your blog with webpage test 
GOOGLE PAGE SPEED
Google PageSpeed Insights is a website speed test tool that grades your website on a scale of 1 "" 100. The higher the number the better optimized your site is.
PageSpeed gives you reports for both the desktop and mobile versions of your site. You can view recommendations for improvements.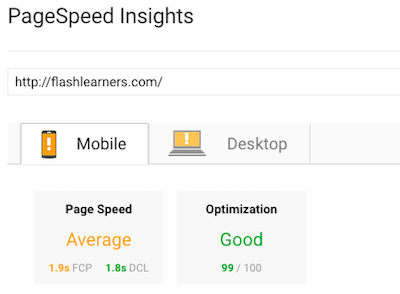 PageSpeed Insights measures how the page can improve its performance on:
time to above-the-fold load: Elapsed time from the moment a user requests a new page and to the moment the above-the-fold content is rendered by the browser.
time to full page load: Elapsed time from the moment a user requests a new page to the moment the page is fully rendered by the browser.
SUKURI LOAD TIME TESTER
The Sucuri Load Time Tester provides a quick and easy way to test the performance of your sites from around the globe.
It will give you a global performance grade, from an A to F. The test measures how long it takes to connect to your site and for one page to fully load. A very important value to pay attention to is the "time to first byte", which gives you how long it took for the content to be sent back to the browser to start processing the page.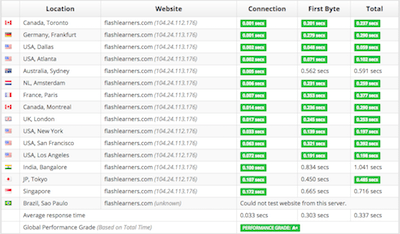 Other Tools You Can Use To Test Your Page Speed Are:
KeyCDN Speed Test
Varvy Pagespeed Optimization
UpTrends
dotcom-monitor
PageScoring
Yellow Lab Tools
Google Chrome DevTools
Pagelocity
PerfTool
Feel free to try out the tools above and let me know which is your favourite. Share this article with friends and don't fail to drop your comment as soon as possible.
Read Also: Top plugins for image optimization