Use the Flashlearners Apps to Pass your Exams. To Install The Flashlearners Jamb, Post UTME, BECE, NCEE, IJMB or WAEC Application… CLICK HERE. Continue Reading to Make Money Selling These Flash Learners Apps.
There are many ways you can Make Money Online in Nigeria; even as a Student. All you need is a good Phone and Internet connection. Today, I will show you how to Make Money Selling Flashlearners Apps.
GET JAMB CBT APP 2022

» Over 16,000 Jamb Questions Offline
» Competition To Win N30,000
» All Jamb Literature Novels
» Jamb English Novel "The Life Changer"
» Free Video Classes For All Topics


The Applications are Free to download so that you can check out the cool features (You can then proceed to activate it with N2,000).
The Flashlearners Applications boast of thousands of Installs.
With every passing year, more than 1.5 Million Candidates register for Jamb.
In 2018, 1,662,762 Candidates Applied for Jamb.
With this, you have thousands of people to Sell the Applications to. Make N600 for every application you sell or for every referral you make. If you sell 50 Apps monthly, that is N30,000 every month.
With just two steps, you can start Making Money with Flashlearners Post Utme, Flashlearners JAMB and Flashlearners WAEC Application, etc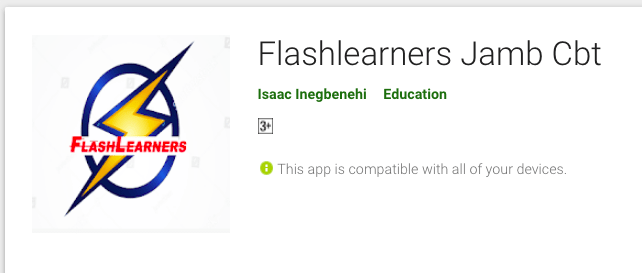 STEP 1:  Install, Test And Activate
INSTALL: The first step To Start Making Money with Flashlearners Apps is to install the Flashlearners Android Application of your choice. You need to install and get used to the Application to be able to tell others about it.
TEST: Open the Flashlearners Application(s), Go through all the features, Practice for Jamb or SSCE with the application to see that it is worth it. If you are impressed with the application and more than willing to recommend it to anybody then go ahead to activate your copy and showcase.
Top 10 Features of Flashlearners Applications Are:
Thousands of Questions
A challenge to Win N30,000
The Applications Work Without The Internet
You can choose any Topic
Practice one or more subjects at once
Contains Jamb Sweet Sixteen
Voice (Text-To-Speech)
Intelligent Personal Assistant (Clara)
Built-In Calculator
Rich Result Analysis
Accurate Answers and Explanations.
ACTIVATE YOUR COPY: After Installing the Application on Your Phone And Personal Computer, follow the  steps below to activate your copy:
Open the Application
Click on ACTIVATE
Go to BUY ACTIVATION KEY
Pay N2,000 By Transfer to Flashlearners Account. The Account Name is Flashlearners, the account Number is 0427393889 and the Bank Name is Guaranty Trust Bank (GTBank).
After Payment, Send Your Name And Product Key to 08167951452 via SMS or Whatsapp (You will Find Product Key Immediately you Click On Activate).
Immediately I receive your Payment and Name, I will reply to your message with the Activation Key.
This is the Standard Way to Activate Flashlearners Applications.
How To Activate For Candidates And Make Money
It is Simple… Call or Chat Me Up on Whatsapp (Preferably) @08167951452. Indicate that you wish to partner with me on Flashlearners Application. I will then save your number as a Partner. You can then refer Candidates and get N500 from each successful referral.
You can achieve this in three ways:
If a candidate pays to me directly, Prove to me that you referred him/her.
Collect N2,000 to activate for every candidate and Send me N1,400. I will send you their activation Key.
You can buy PINS from me At N1,400/PIN and Use it to activate for Candidates at N2,000 each.
Straightforward right? Please use the comment box if you are in doubt or have questions. You can reach me via:
Email: [email protected]
WhatsApp: 08167951452
Instagram: @iamflashisaac
STEP 2: Promote The Applications
The more you promote the Applications, the more money you make. There are many ways you can promote the Flashlearners Applications:
At School
Lecture houses
Around Your Area
Places best-known to you.
I look forward to a wonderful partnership with you.
Related Searches On Google:

Make Money Online Selling Flashlearners
How to Make Money Online Selling Products
How to Make Genuine Money Online in Nigeria
Flashlearners Jamb And Waec Android Apk
Recommended: Make Money Blogging in School
Latest posts by Isaac Inegbenehi
(see all)