How Much will One Million Google Adsense Page Views Generate Monthly? In this article, I will teach you how much you can make on Google Adsense with 1 Million Page Views. This Google Adsense Earning Calculator is going to be very straight forward.
The Parameters required to be able to deduce or calculate how much one million page views on your blog will generate in Google Adsense are: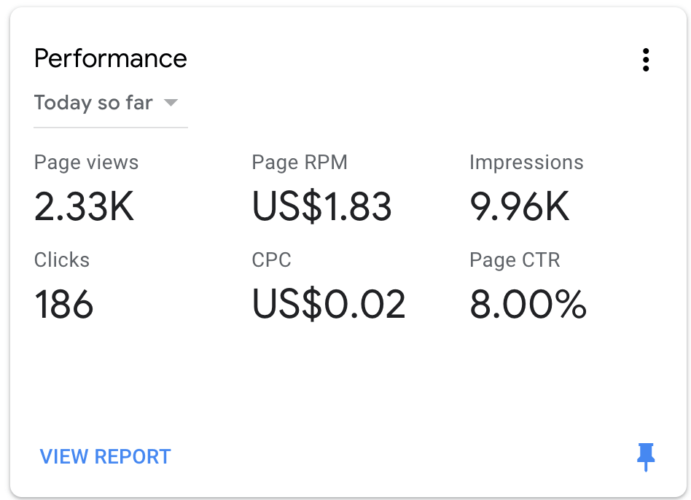 CPC is simply the cost per click. It is how much you can earn per one click. If your Google Adsense CPC is $2, it means you will earn 2 dollars for any visitor that clicks on your Google Adsense Ads.
The full meaning of CTR is Click Through Rate and it measures the rate at which visitors click your ads. In the image above, the CTR is 8% which is very high. It means 8 out of every 100 persons that visits clicks an advert.
RPM stands for Revenue per thousand impressions. Page revenue per thousand impressions (Page RPM) is how much you can make with Google AdSense for every thousand page views you get on your blog.
Recommended: How to add payment method in adsense
CPC and CTR are what determines your RPM. As someone who has been using Google Adsense, you should be familiar with your RPM by now. Yes, you should be able to know how your RPM varies from morning to night and determine your average RPM.
How much you will generate with Google Adsense per 1 Million pageviews can be calculated from your Page RPM. If your page rpm is $1.83 dollars you will earn $1.83 dollars for every 1000 page views and $1,830 for one million page views. 
How did I get it? One million has exactly 1,000 thousand in it (i.e 1 milli has 1000 RPM in it). So 1000 multiplied by $1.83 is equal to $1,830. If your page RPM is $15.8, you will make $15,830 with one million (1M) viewers, $31,660 with two million (2M) page views and $47490 with three million (3M) page views.
Assuming your Google Adsense RPM is $15.8 and you get one million pageviews monthly, this is what you will likely be earning:
$527.667 daily i.e $15830÷30 (on average)
$15,830 monthly
$94980 every six months (15,830 times 6)
$189,960 every year (15,830 times 12)
 68,385,600 Nigerian Naira yearly
The limitation of this formula is that your CPC sometimes drops when your traffic suddenly spikes. This will affect your RPM. However, if you have been getting very high pageviews, then little increase in views won't noticeably affect your Revenue per thousand impressions. On the other hand, you should know your average Google RPM by now, use it to calculate.
Recommended: Best AdSense ads placement to earn more