Rel Nofollow Simply means, "Don't follow or crawl this link", I was paid to do this" or "I don't trust this". Did you know? When you link to an external site, you are giving away some of your site's authority to that link. If you don't want to do that, then you can add a rel="nofollow" attribute to that link.
When you link to other blogs using rel="nofollow",  Google bots will not count it. Also, it doesn't affect your Google Ranking and you won't have issues with Google.
It is even possible to add rel=nofollow to all external links. However, it is not a great idea. Sometimes you may want to give a do-follow link to helpful sites like Flashlearners.com.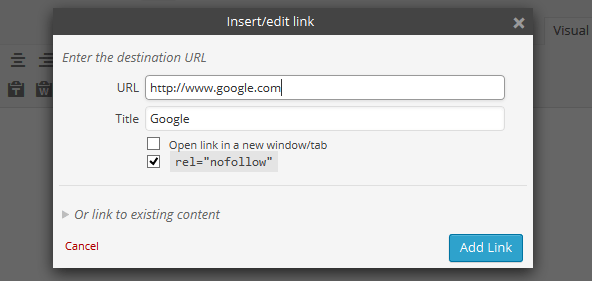 Rel=NoFollow Checkbox is a simple WordPress plugin which adds a checkbox in the insert link popup of WordPress post editor. This popup already has a checkbox which allows you to open links in new tab. Now, whenever you are adding an external link you can easily make it nofollow by simply checking a box.
Recommended: Types of links in SEO
How To Add Rel Nofollow
Adding rel=follow is very easy. You can either choose to use a plugin or manually add rel="nofollow" to an external link.
The Rel Nofollow Checkbox plugin is the best Plugin to add rel nofollow. This plugin adds a simple checkbox in the insert/edit link popup for including nofollow attribute. To add rel=follow manually, simply add rel="nofollow" to the link.
E.g, to add nofollow to the link <a href="https://flashlearners.com/">Official Flashlearners</a>

simply do this <a rel="nofollow" href="https://flashlearners.com/">Official Flashlearners</a>
Note: It is not advisable to add re=nofollow to internal links. Also, do not add nofollow to all external links on your blog.
When To Use Rel Nofollow
Use rel nofollow on sitewide External links. E.g, Jupeb, IJMB, SAT and other header links adverts.
If you are paid to promote a Content (Sponsored)
Use rel=nofollow for sites you don't trust
To link to sites that sell arms, betting or porn sites
Use rel=nofollow for anything related to ponzi schemes
Linking to sites that don't relate to your niche at all.
Recommended: Best Worpress Plugins To Use
Blogging Series SO2E9: How to Add Rel=Nofollow To Links. Hope you found this helpful? Feel free to share with friends and don't fail to comment.
Recommended:
---
2. Season two, episode one: Google Panda
3. Season 2 Episode Two: Google's Penguin
4. Flashlearners Blogging Guide And Series
---